29 items in de category Malta_Independent.com.mt_ in vrijdag De links 1 t/m 29.

Malta: Malta Independent.com.mt : (Laatste update: vrijdag 14 december 2018 22:52:15)
Dangerous Sliema AC unit moved to safer spot after police report filed
An air conditioning unit that was dangerously mounted on the side of a police guard room at Sliema Ferries has been moved to a safer spot after a report filed by a youth who was seriously injured after bumping into the object.
The youth ended up with stitches on his head after he hit the outdoor unit, which was blocking a pavement.
The young man has since reported that the AC unit has been moved to a safer spot at ground level (below).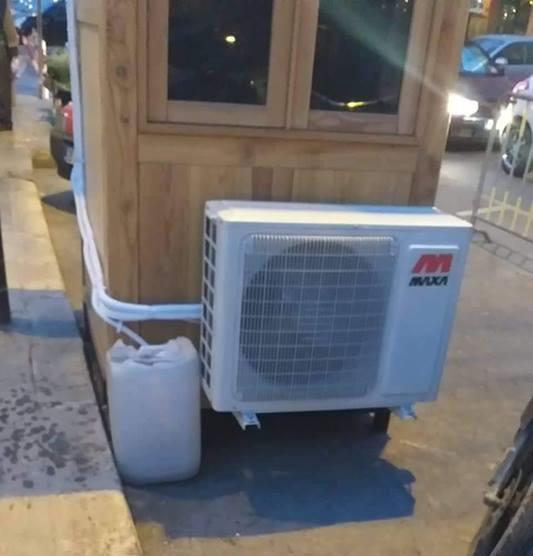 Fri, 14 Dec 2018 20:02:00 +0100

Italian journalist becomes fourth fatality of Strasbourg Christmas market attack


Antonio Megalizzi, an Italian journalist who was injured in the Strasbourg attack, has died.

The prosecutor's office announced the death three days after the attack in the eastern French city and a day after the suspected gunman was shot dead by police.

Although they did not entirely clarify their announcement, prosecutors appeared to suggest that the person who died Friday was one of 12 wounded people and not another person who has been described as being brain dead.

Various Italian news outlets are reporting that the fourth fatality is Megalizzi. The journalist was reportedly shot in the head.

Paris prosecutor Remy Heitz, who handles terror cases throughout France, told a news conference that seven people are in police custody, including four family members of Cherif Chekatt and two who were detained on Thursday night.

Chekatt, 29, was shot dead Thursday during a police operation in the Neudorf neighbourhood of the city.

"We want to reconstruct the past 48 hours in order to find out whether he got some support," Heitz said.

The Strasbourg shooting was the latest in a series of deadly attacks that have claimed more than 200 lives in France since 2015.

On Friday the Christmas market reopened for the first time since the attack amid tight security. Interior Minister Christophe Castaner attended the reopening and had a stroll to meet with shopkeepers.

Access to the market has been reduced while extra police officers and military have been deployed to the site, in addition to private security guards.

"This Christmas market is part of our history. It's part of our common events and belongs to all the French people," Castaner said. "And this morning, we wanted to show, as we walked down the lanes, that we always know how to get our head up again."

Heitz gave more details about the police operation that led to Chekatt's death on Thursday evening after a two-day manhunt. He said the suspect was localized after police received two crucial tipoffs from Neudorf residents. Three officers patrolling in Neudorf ultimately spotted a man corresponding to the suspect's description. He noticed their vehicle and tried unsuccessfully to enter a building. When police officers identified themselves, Chekatt turned around and opened fire.

"A projectile hit the vehicle above the left rear door, two police officers responded, shooting several times, and killed him," Heitz said.

Investigators found a gun, a knife and ammunition on Chekatt's body.

The immediate aftermath of the shootout between French security forces and the suspect was caught on camera from across the street, with video footage showing armed officers at the scene and the body of the man slumped in a doorway.

More officers arrive at the scene soon after, followed by crime scene investigators.

The Paris prosecutor's office formally identified the man as Chekatt, a Strasbourg-born man with a long history of convictions for various crimes, including robberies. Chekatt also had been on a watch list of potential extremists. He had his first conviction at 13, and had 26 more by the time he died at age 29. He served jail time in France, Germany and Switzerland.

Witnesses said the gunman shouted "God is great!" in Arabic and sprayed gunfire from a security zone near the Christmas market on Tuesday. Security forces wounded the man in the arm but he managed to escape in a taxi.


Fri, 14 Dec 2018 18:18:00 +0100

Dutch teens fined after admitting to drunken disturbance in St Julian's


Two teenage holidaymakers have ended up on the wrong side of the law after they caused a rowdy drunken disturbance in the early hours of Friday morning.

Jordy Marechal, 18, and Rick Ronaldus Markus Wilting, 19, both Dutch nationals, were arrested after threatening officers who were trying to contain their noisy carousing along the St Julian's seafront at around 3.00am this morning.

Police officers at the St. Julians Police Station were alerted by shouting in the vicinity of the LOVE monument and upon investigating, came across the, clearly intoxicated, young men.

After police officers had quietened down the two revelers and moved on, the men had ran back towards the officers, while insulting and threatening them, refusing to obey the police officers' orders.

This verbal confrontation led to the arrest of the men.

Standing side by side in the dock, the two youths pleaded guilty to the charges.

They also admitted to charges of breaching the peace and to having been drunk in public.

Lawyer Martin Fenech, legal aid to the youths, told the court that the two were students with limited financial means who had also been robbed just days ago.

The two youths were sorry for their actions and were ready to pay for their misdeeds Fenech said, also telling the court that the pair had already booked a flight out of the country for today week.

Having heard the submissions and in view of their early guilty plea and cooperation with the police, magistrate Aaron Bugeja conditionally discharged them for 6 months and fined them both €800, giving them four days in which to pay.


Fri, 14 Dec 2018 17:32:00 +0100

Man charged with misappropriating €7,000 from car rental company where he works


A man has been charged with misappropriating €7,000 from a car rental company he works for after he was arrested boarding a flight to Romania.

Coosmin Bucur, a 35-year old Sliema resident from Romania, was arrested at the Malta International Airport shortly before boarding his flight to his home country.

The man was taken to court on Friday afternoon, where he pleaded not guilty to having allegedly misappropriated the money which his employer had entrusted him with to deposit.

Bail was requested by defence lawyer Martin Fenech, who argued that the sum was "relatively small" and did not merit the man's continued detention. If bail were to be denied this would prevent him from returning the money to the victim, said the lawyer.

Police Inspector Silvio Magro, pointed out that the accused had no family ties to Malta and that civilian witnesses were still to testify.

Bucur had bought a one-way ticket to Bucharest, before being arrested, the court heard. This meant there was a tangible risk of absconding, argued the prosecution.

The accused spoke up at this point, telling the court, through his lawyer, that he had bought a return ticket "months in advance."

The court, presided by magistrate Aaron Bugeja, however denied bail after taking note of the circumstances of the case, the seriousness of the charge as well as other factors,


Fri, 14 Dec 2018 16:52:00 +0100

Konrad Mizzi claims breach of his right to fair hearing in Panama Papers appeal


Minister Konrad Mizzi has filed a constitutional application claiming a breach of his right to a fair hearing in a case related to the Panama Appeals.

Mizzi's application adds a new twist to the long-running Panama cases. One of seven high profile individuals, into whom an investigation was ordered by Magistrate Ian Farrugia following revelations emerging from the Panama Papers, Minister Mizzi is now claiming that the judicial process, filed by former Opposition Leader Simon Busuttil, was simply an attempt "to cast a shadow upon his integrity."

In an application filed by lawyers Aron Mifsud Bonnici and John Bonello, before the First Hall, Civil Court, it was claimed that although allowed to join the proceedings instituted by Busuttil against the Attorney General, Minister Mizzi, as well as the other appellants against the decision of Magistrate Farrugia, did not have a right 'to actively participate in the proceedings' while Busuttil had presented documents to the court and made submissions through his lawyer.

Moreover, Mizzi said, Busuttil's request for the recusal of Mr Justice Antonio Mizzi, assigned the appeals against Magistrate Farrugia's decision, had been "nothing but an attempt at forum shopping and prolonged procedure."

The recusal was eventually turned down by the Constitutional Court on November 8 and the appeals were once again sent back to Mr Justice Mizzi, at which point Busuttil had declared that he was to take his grievance to the European courts.

However, despite this declaration, no such reference to the ECJ nor the ECHR was filed, thereby indicating Busuttil's "evil intent", the application stated.

After being allowed to interfere in the proceedings, Busuttil had made a blatant attempt at forum shopping, and had "maliciously wanted to mislead the Criminal Court," reads the document.

The application accuses the former Opposition Leader of constantly insisting on having proceedings conducted in open court, giving comments to the media after every hearing and manipulating the proceedings in such a way as to "cast a shadow upon the integrity of the applicant."

This, said the Minister, was tantamount to a denial of his right to a fair hearing within a reasonable time as safeguarded under article 39 of the Constitution and article 6 of the European Convention.

Mizzi said the decree delivered on December 3 by Mr Justice Giovanni Grixti, now presiding over the appeals, meant that he would effectively be denied the right to defend himself since he would not have access to further submissions made by the other party.

"Those making the accusations would have the final say," rued the minister, referring to Grixti's decree which had laid down that submissions were to be made in writing within four days of notification, with the final decision to be delivered in chambers.

The applicant requested the court to declare all proceedings "null and ineffective."


Fri, 14 Dec 2018 16:37:00 +0100

Henley & Partners made a total of €28.8 million as concessionaire of IIP scheme


Henley & Partners have made a total of €28,800,000 as the Concessionaire of Malta's IIP's passport sale scheme since its launch.

This information was made available through the Fifth Annual Report on the Individual Investor Programme of the Government of Malta.

During the period under review by this Report (1st July 2017 – 30th June 2018), the contributions collected by the Malta Individual Investor Programme Agency (MIIPA) amounted to €162,375,000.

"The contributions so collected initially go into a Suspense Account and it is only after the Oath of Allegiance is taken that the distribution of funds is carried out in accordance with the provisions governing the IIP. Taking all inputs from the IIP related to property purchases and rent, investments and contributions during the period covered by this Report, the sum total (€246,088,758) would equate to approximately 2.09% of the GDP relative to the same period."

When the amount of contributions collected during the period covered by this Report is added to the contributions previously collected by the MIIPA since the launching of this Programme, this would result in a grand total of €672,025,000 contributions collected by the MIIPA in respect of this Programme.

During the period 1st July 2017 – 30th June 2018 the funds distributed were as follows: €159,075,550 to the National Development and Social Fund; €68,000,445 to the Consolidated Fund; €11,827,500 to Identity Malta Agency/Malta Individual Investor Programme Agency; €9,746,000 to Henley & Partners.

This means that since the launching of the IIP, the total amount of funds distributed were as follows: €408,404,349 to the National Development and Social Fund; €174,855,645 to the Consolidated Fund; €35,529,000 to Identity Malta Agency/Malta Individual Investor Programme Agency; €28,800,000 to Henley & Partners.

The balance in the Suspense Account, which was still awaiting distribution, as on 30 June 2018 stood at €24,436,006

Applications received

The number of applications received during the period in question amounted to 330, 47 applications less than the previous twelve months (377).

The report highlights that the largest number of main applicants originated from Europe (141 applications). The second most popular region was, once again, Asia (107 applications). Africa (30 applications) surpassed the Middle East (26 applications) in third place with the latter region experiencing a 5.6% drop during the past twelve months.

The number of dependants included in the 330 applications amounted to 818 of which 243 were spouses, 398 were minor dependants and 177 were adult dependants (either adult children or parents/grandparents).

The amount of applications which were approved (i.e. applications for which the due diligence has been positively concluded and a letter of approval in principle has been issued) was 223. "When adding these figures to those included in previous reports one will note that the total number of letters of approval issued till 30th June 2018 amounts to 961."

In terms of applications which were either rejected or withdrawn, the number of applications during the period in question was 75.

During the period in question 266 applications had reached the final stage (i.e. when the naturalisation process was completed). In total (since the launch of the Programme) up till the end of June 2018, there have been 833 successful main applicants. "Considering that Regulation 12 of the current version of the IIP Regulations stipulates that the number of successful main applicants (excluding dependants) shall not exceed 1,800 for the whole duration of the Programme, the aforementioned figure constitutes 46.3% of the indicated pre-established target."

Property requirements

The IIP Regulations highlight that the main applicants "are obliged to invest in a residential immovable property in Malta, either by acquiring and holding one having a minimum value of €350,000 or by taking one on lease for a minimum annual rent of €16,000." In this regard, during the period in question, there were 266 properties that were either purchased or leased.

Between July 2017 and June 2018, the value of the 25 purchased properties amounted to €29,600,500, averaging €1,184,020 per property. In the case of leased properties, the rental value for the duration of the 5-year contract is projected to be €23,062,687.64 averaging €95,695.80 per contract. On an annual basis, this translates into an average of €19,139.16 per lease.

The report also highlights that an IIP applicant shall make a minimum investment of €150,000 in Malta Government Stocks. "In this regard, the amount invested in such Stocks between July 2017 and June 2018 totalled €39,991,242.79. Taking into consideration all investments made since the launch of the Programme the total amount adds up to €126,015,542.50."

Agents

The total number of Accredited Agents as at the end of June 2018 now stands at 159, an increase of 18 when compared with the amount registered a year before, the report reads. "Of these 22 were upgraded to the status of Approved Agents.


Fri, 14 Dec 2018 16:04:00 +0100

Venice Commission report focuses on laws and systems implemented years back - government


A draft opinion by the Council of Europe's Venice Commission focuses on laws and systems that were passed or implemented years back, and not about laws introduced by this administration, the government said in a statement.

The draft report, a copy of which was seen by this newspaper, said the wide powers of appointments that the Prime Minister - as an office - enjoys, make this institution too powerful and create a serious risk to the rule of law.

It also recommended that the AG's powers be split, and said that reforms started by this government were not sufficient and that positions of trust should be limited.

In a statement, the government said it has taken note of the European Commission for Democracy through Law's (Venice Commission) draft opinion. The government said will give its reaction when the commission issues the final document.

"The commission is preparing an opinion about the constitutional framework, the separation of powers, the independence of the judiciary and the institutions that enforce the law in Malta."

"The government notes that the draft opinion comments Where the draft opinion refers to laws enacted by this government, these are described as a step in the right direction."

"The mentioned draft opinion is being compiled after requests by the Maltese Government and the Parliamentary Assembly's Committee for Legal Affairs and Human Rights, and will be concluded in the coming days. The government will issue an official position on this opinion after the commission publishes the final report."

Minister for Justice, Culture and Local Government Owen Bonnici, representing the government, yesterday addressed the 117th Plenary Session of the Commission. The meeting, held in Venice, discussed several issues amongst which featured the draft opinion.

During his address, Minister Bonnici explained Malta's constitutional framework, changes adopted in the constitution, and also laws enacted so as to strengthen democracy and the respect for human rights. The minister also affirmed the government's will to continue to adopt systems and measures to further strengthen the rule of law in Malta.

During the session, the President of the Commission Gianni Buquicchio and rapporteur Martin Kuijer both had words of praise for the Government of Malta, according to the government press release.


Fri, 14 Dec 2018 15:58:00 +0100

In November air temperatures ranged between 10.6°C and 24.1°C


November's lowest minimum temperature of 10.6˚C, recorded on the very last day of the month, served as a somewhat chilly reminder that the meteorological winter was on the doorstep. A total of 166.7 hours of sunshine, on the other hand, continued to brighten November days in Malta.

Ten hours of sunshine, measured on the first Monday in November, chased the blues away and put the week off to an extremely bright start. The 5th November was, in fact, the month's sunniest day, while the 1st November was marked by a total absence of sunshine. The mean cloud cover for the month was 4.1 oktas; this being slightly heavier than the norm.

November brought with it noticeably cooler weather, but averaging at 18.5˚C, the air temperature exceeded the norm for the month by 0.9˚C. The mean sea temperature too was higher than usual, surpassing the norm of 21.0˚C by 1.1˚C. These higher-than-average temperatures appear to reflect a wider climate trend, which indicates that the average global temperature for 2018 will be the fourth highest on record.

November rain was certainly nothing to sing about, with the total precipitation amount falling significantly short of the month's quota. 27.2 mm of the 61.0 mm of precipitation collected in November, were measured on the tenth day, making it the month's wettest. On the same day, one of the six instances of thunder that punctuated the month, was reported by the Meteorological Office.

Thunder was also reported on the 27 November; this time accompanied by some very strong winds. A maximum gust blowing at a noteworthy 50 knots from a north-westerly.

direction was measured on the day. In general, however, the month was not any more blustery than usual, with the wind speed averaging at 8.3 knots to equal the climate norm for this parameter.



Fri, 14 Dec 2018 15:18:00 +0100

2018-2021: Government finances to remain in surplus, growth to remain high, says CBM


Government finances are expected to remain in surplus, growth is to remain strong and unemployment will remain low, according to the Central Bank of Malta's economic outlook for 2018-2021.

The Central Bank of Malta's latest projections foresee economic growth over the coming years to remain strong from a historical perspective. Projections to economic activity remain broadly unchanged when compared to the previous set of forecasts, as upward revisions to private consumption and investment are offset by downward revisions to net exports, the CBM said.

During the projection horizon, growth will remain high, supported by both demand and supply factors. In particular, the continued impact of the energy reforms, new investment projects and increased labour supply are expected to keep potential output elevated. Domestic demand, driven by higher consumption and investment, is anticipated to become the primary driver supporting the economic expansion over the projection horizon.

Net exports are expected to provide some support this year, but their contribution is expected to turn negative from 2019, reflecting higher import growth. The pace of job creation is set to moderate, but remain quite strong.

The labour market is projected to remain tight, with the unemployment rate projected at 4.0% by 2021.

Annual inflation, based on the Harmonised Index of Consumer Prices (HICP), is projected to edge up to 2.1% by 2021, reflecting a pick-up in domestic wage pressures. Government finances are expected to remain in surplus over the coming years.

Meanwhile the debt-to-GDP ratio is projected to decline to below 40% by the end of the projection horizon.

Looking forward, GDP projections are more likely to be revised upwards in forthcoming forecast rounds, reflecting more recent data on GDP that surprised on the upside. Similarly inflation forecasts could be revised upwards, if wage growth is faster than currently projected.

Finally it is more likely that forthcoming public finance projections show higher surpluses and lower debt-to-GDP ratios than the ones found in this set of forecasts. More details on the Bank's latest projections can be found here.



Fri, 14 Dec 2018 14:52:00 +0100

Malta police scene of the crime officers attend forensic training course


Minister for Home Affairs and National Security Michael Farrugia and Parliamentary Secretary for Consumer Protection and Valletta 2018 Deo Debattista gave an overview of the training taken by the Malta police scene of the crime officers by the Netherlands Forensic Institute (NFI) Scene of Crime Experts at the Academy for Disciplined Forces. The two-week course was delivered by NFI experts Paul Van Den Hoven and Martin Ross, and 12 Malta police officers participated in the course.

Debattista explained that forensic science is the responsibility of medicine, the intricacy of law, and the universality of science. "It is with great pleasure to see the work of the Malta Laboratories Network move towards the evolvement of excellence in the scientific scenario", Debattista concluded.

Minister Michael Farrugia said that forensic science is critical to prosecution. Law enforcement and judicial authorities must be confident that the forensic data they rely on is of high quality and up to international standards.

"The Forensic Science Laboratory is in the process of building a completely new building with state-of-the-art equipment and latest technology. We have to upgrade to modern Forensic techniques and methodologies. So far accreditation has already been attained in the fields of fingerprinting and DNA. Sciences and hi-tech evolves day by day in this crime field. Continuous training, specialisation and expertise of personnel are vital in the forensic area as well as the relevant equipment. We aim to have certified trained personnel who can serve their respective duties in the most effective manner, meeting the trends presented in a complex evolving scenario", said Minister Farrugia.

In 2016, NFI delivered a 5-week training course that focused on DNA Sampling, Scene of Crime photography, bloodstain pattern analysis, investigation and securing of evidence in serious crimes amongst other topics. The police officers will undergo another training course in March that complements these past days' course. Topics include General Crime Scene management, Basic Forensic principles and theories, basic and new methodology of recording a crime scene amongst others.

Chairperson of the Malta Laboratories Network Professor Anthony Serracino Inglott, Police Inspector Charlot Casha, and Martin Ross participated in the conference, whilst high officials from the Malta Police Force and the Dutch Ambassador to Malta Frank Keurhorst were also present.



Fri, 14 Dec 2018 14:18:00 +0100

Alfred Degiorgio cleared of involvement in an armed holdup in the year 2000


One of the men suspected of involvement in the assassination of Daphne Caruana Galizia has been cleared of involvement in an armed holdup on a cash van in the year 2000.

Alfred Degiorgio had been charged, alongside Mario Cutajar and Emanuel Formosa, with involvement in the violent robbery of a Group 4 cash van on October 26, 2000 in Canon Road, St Venera in which almost a million maltese liri had been stolen.

Formosa, the Group 4 employee who had been driving the van when the holdup took place, had been cleared of liability by a Magistrates' Court last year.

The cash had been found at a house belonging to the other co-accused, Mario Cutajar, stuffed into plastic bags and hidden under a mattress. Cutajar had been convicted solely of handling stolen property and was handed a suspended sentence.

Alfred Degiorgio, who had been implicated by the other co-accused in their police statements, was also found guilty of having handled stolen property on the strength of a solitary fingerprint on one of the cash-filled bags.

He had filed an appeal after being handed a two-year jail term suspended for four years.

In its judgment the Court of Criminal Appeal, presided over by Madam Justice Edwina Grima, went over the voluminous records of the case with a fine toothed comb. The judge began by highlighting a procedural defect which appeared to have escaped the first court as well as the parties.

In the original charges, the prosecution had issued the charge of handling stolen property solely against Cutajar. However, when remitting the records back to the court, the AG had attributed this offence to all three co-accused.

Therefore, Degiorgio could never have been found guilty of the offence as he had not been originally prosecuted for it and there had been no compilation of evidence in its regard, the court ruled.

With regards to the rest of the evidence, Madam Justice Grima observed that the prosecution's case rested upon a fingerprint lifted from a red and white plastic bag containing some of the cash allegedly stolen in the holdup, which matched a finger on Degiorgio's left hand.

There had been no other evidence linking him to the crime, noted the Court, observing that the first court had concluded that the accused must have handled the bag at some point.

However, this did not mean that the accused had touched the cash, said the judge, adding that it had not been proven that Degiorgio had touched the bag before or after the robbery.

The court said that the case was based upon a series of suppositions tied to the presence of the fingerprint, which however, were "mere conjectures which fell short, by far, of the moral certainty required by law to establish guilt."

Degiorgio was cleared of criminal responsibility.

Lawyer Arthur Azzopardi and Rene Darmanin were defence counsel.



Fri, 14 Dec 2018 14:11:00 +0100

53% of Malta's adult population have been involved in paid gaming activities
Around 186,849 people aged 18 or over, or rather 53% of the country's adult population, are estimated to have been involved in paid gaming activities, a survey carried out by the Malta Gaming Authority about the consumption of gambling and gaming services of Maltese residents in 2017.
This is a 4.3% decrease over 2015, whilst 47% reported that they play free games as well. This is spread between free to play computer games (53%), free internet games (83%) and free non-computer games (84%), with each person naturally being able to pick any or all of the aforementioned three options.
The survey also indicates that gambling and gaming services in Malta constitute around 2.6% of household expenditure in total, and that less than 10% of the population engaged in gambling and gaming services spend more than 10% of their income on such services.
It is estimated in total that the Maltese population in 2017 spent around €128 million in gaming and gambling, representing a €3 million increased from the last time this survey was conducted in 2015. The overall average expenditure per person per product decreased by €1 over the period under review, from around €12.30 per week in 2015 to a smidge under €11.30 per week in 2017.
77.4% of engagements in gaming by Maltese layers involved National Lottery games, whilst the next preference was in remote gaming. There is a general preference amongst those falling into younger adult demographics for the latter, whilst the popularity of the national lottery peaks in the 45 to 59 years age bracket, a demographic which does not seem to engage in remote gaming at all.
Out of all respondents, 1 to 2% of reported that the money they spent on gaming was having a negative effect on their lives or the lives of those around them. Explaining the results, economist Gordon Cordina said that this does not necessarily mean that these people are in extreme types of problems, and it could also be that these same people are already members of support services that are helping them to stop their problem.
Kayne Said from the Responsible Gaming Foundation said that the foundation aimed to look into this reported figure, and also continue to add awareness on the causes and consequences that gaming could have, whilst giving importance to support to those who suffer from compulsive and pathological gaming habits.
One such measure will be a €1 million EU-funded project called Take Action against Gaming Habits in Malta, whilst the foundation will be carrying out an educational campaign with fourth year primary school students on responsible gaming, and carrying out its own national survey to go further in depth on the various realities of the gaming and gambling situation in Malta. Said reminded that the foundation also operates a helpline for all suffering from gambling or gaming problems, which is 1777.
Parliamentary Secretary for Financial Services, Digital Economy and Innovation Silvio Schembri meanwhile also praised the survey and the picture it gave of the situation, and saying that it helped the government see what measures it needed to take, and whether those that had already been implemented were working as intended.

He said that the statistic which stood out to him was that the average expense on gaming was €11.30 a week saying that as long as this spending figure is controlled and that the person spending can afford it, it is not necessarily a bad thing. Schembri said that he was looking forward to the Responsible Gaming Foundation's next survey into the realities of this industry, and said that more specific action can be taken from there.

Heathcliff Farrugia, the Executive Head of the Malta Gaming Authority, meanwhile said that the survey had provided a clear picture on how gaming affects Maltese society, and noted that it was good to see that the vast majority of people see gaming as entertainment and can have fun without losing control.

Still, he said, it was the authority's responsibility to support those who were being affected negatively by gaming and gambling and he added that the survey was useless unless it had an action plan with all stakeholders, including the government, involved.



Fri, 14 Dec 2018 14:00:00 +0100

TMID Editorial: From a unilateral, to a regional to a global approach on migration


Malta's signing onto the United Nation's Global Compact on Migration was a milestone, landmark moment in the country's long-running struggle, as a frontline state, for some form of burden sharing.

Malta has experienced the pangs of the migratory phenomenon first hand for well over a decade now. Many times it has been left to deal with the issue singlehandedly, at other times, such as last summer, there was more of a loose, regional coalition of the willing, as it were, who shared some of the burden after negotiations led by our own Prime Minister.

Now what we are looking at is an extremely valuable global approach to the phenomenon, which, at the end of the day, will only serve to help the world, and Malta by obvious default, manage migration in a safe and orderly fashion.

This is a massive step in the right direction.

Malta was among the 164 countries participating in an intergovernmental conference held on 10 and 11 December in Marrakech, Morocco, to adopt the Global Compact for Safe, Orderly and Regular Migration: the first inter- governmentally negotiated agreement.

The compact was drawn up under the auspices of the United Nations to cover all dimensions of international migration in a holistic and comprehensive manner.

The compact is not legally binding and a core guiding principle of the final text explicitly affirms the sovereign right of states to determine their national migration policy and their prerogative to govern migration within their jurisdiction in accordance with international law.

The agreement is a sort of one-stop-shop to bring together existing, and disparate UN agreements that touch on migration. It is rich in ambitious speech and top officials trumpeted a new 'network on migration' and a 'start-up fund' linked to the UN migration agency.

In all, the pact outlines 23 objectives for the management of migration at local, national, regional and global levels. It calls for more cross-border cooperation and looks to minimise factors and driving forces that push people into leaving their home countries.

It also calls for migrants to be provided with the proper documentation and identity papers, whilst also advocating the creation of conditions to allow migrants to contribute to sustainable development in all countries, along with cooperation for the safe return and readmission of migrants to their home countries.

The pact is non-binding and it makes it amply clear that there is no stipulation or obligation that a country has to take in a certain number of migrants.

There were, however, some notable absentees from the meeting in Morocco, with the USA, Hungary Italy, Australia, Austria, Bulgaria, Croatia, the Czech Republic, Poland and Switzerland all having chosen to opt out. Belgium, meanwhile, saw its governing coalition collapse over the pact but its Prime Minister nevertheless signed it.

The objections to the pact are varied and with criticism that it brings the rights of asylum seekers and economic migrants closer together being one of the centrepiece complaints by non-signatories and non-supporters.

The compact aims to reduce discrimination toward migrants, collect real data about how people move, broaden the use of government-backed internet portals to help migrants, and give training and education to migrant women, among other things.

It also wants the detention of migrants to be seen only as a measure of last resort.

Defenders note that migrants are people and deserve recognition and defence of their human rights. They have played up the economic benefits to rich countries with aging workforces and to poor countries through remittances of cash by migrants who send money back home.

Opponents often fear an influx of migrants can dilute their countries' character, import poverty or crime, reduce wages and take jobs from citizens.

But for Malta, considering our geographical position and size, this agreement is fundamental, and anyone objecting to it here would no doubt just as soon cut of their nose to spite their own face.


Fri, 14 Dec 2018 11:00:00 +0100

Out of many nations, a single message: Europe is united


Unlike the political chaos that has roiled Britain over Brexit, there has been no such squabbling among the 27 other European Union nations during the impending divorce.

The two years of negotiations has shown a unity in the EU that many observers thought was not possible.

Even British politician Nigel Farage, a force behind the 2016 referendum on Brexit who finds little to praise about the EU, has given grudging admiration.

"We, as Brexiteers, are up against a very well-organized enemy," he said in an interview with The Associated Press on Thursday.

Over the years, EU nations have fought often and hard over many issues like migration, fishing rights and kicking Greece out of the common currency union. On Brexit, though, their lawmakers have stuck together despite the many cultures, languages and political beliefs.

But when British Prime Minister Theresa May came to Brussels on Thursday for talks with her European counterparts, seeking help to fix her domestic problems in Parliament, the tables had turned for all to see.

May was forced to withdraw the Brexit plan from a vote in Britain's Parliament this week when it was clear it did not have enough support to win. Too many lawmakers thought the terms were too tough and would still tie Britain to too many EU rules and constraints, perhaps indefinitely.

She made a whirlwind diplomatic tour of key European capitals to see what could be achieved and whether there were any fissures to exploit among the bloc's members.

But the nations said there would be no turning back on the 585-page legal agreement they had reached with May.

Their message was the same, an Alpine echo from Berlin to Paris to Vienna.

From German Chancellor Angela Merkel: "I don't see we can change the withdrawal agreement."

From French President Emmanuel Macron: "We cannot reopen a legal agreement."

From Austrian Chancellor Sebastian Kurz: "There will be no new negotiation of the withdrawal agreement."

On June 23, 2016, Britain approved a referendum to withdraw from the EU by a margin of 52-48 percent. Since then, May is on her third Brexit negotiator, countless new ministers, and worst of all, a botched general election she had called that left her Conservatives without a majority in Parliament.

The referendum is still dividing British political life to this day.

By comparison, the unity across Europe has been embodied by Michel Barnier, the EU's chief Brexit negotiator. The smooth, silver-haired French diplomat and politician has won widespread praise.

"Whilst I may be on a different side to Monsieur Barnier, I recognize his brilliance compared to the British prime minister," Farage said.

Barnier credits his success to being open and transparent, to shuttling relentlessly from capital to capital, and to knowing the Brexit file inside out.

EU nations also were helped by a common fear of the union unraveling further if May was offered a deal so advantageous that other countries might follow.

Their unity was strengthened when two British foreign ministers compared the EU to both Nazi Germany and the Soviet Union.

Ever since joining European Economic Community in 1973, Britain almost always seemed to be a half-hearted member, insisting on exceptional treatment and continuously trying to slow others to move toward more unity. It refused to join the euro single currency or Europe's passport free travel area.

Before the Brexit referendum, then-Prime Minister David Cameron sought "ironclad guarantees" that Britain would not be bound to ever-closer EU membership, something that fueled fears about a loss of sovereignty.

Such guarantees would sway the electorate to stay in the EU, he said, and the EU obliged in a deal that was meant to be used as a campaign tool ahead of the vote.

Except that Cameron lost the referendum.

"The Cameron experience shows that the work we do here tends to evaporate," one EU diplomat said Thursday, highlighting the fact that political goodwill is running short, particularly since May already agreed to the Brexit deal last month.


Fri, 14 Dec 2018 10:41:00 +0100

Updated (2): Syrian worker seriously injured after falling from a height of five floors


A man was seriously injured in a fall in Gzira this morning, the police said.

The accident happened at 10am in Triq il-Madonna tal-Gebla.

The Syrian man, aged 22, from Birkirkara, fell five floors down into a shaft. According to reports, the man is in danger of dying.

Civil Protection Department officers and police assisted the man on site. Magistrate Aaron Bugeja is leading an inquiry.


Fri, 14 Dec 2018 10:25:00 +0100

'Overwhelming' vote for Marlene Mizzi's Brexit linked legislative report


The Marlene Mizzi Report: "Regulation on complementing EU type-approval legislation concerning the UK withdrawal from the Union" was voted in the Strasbourg plenary with an overwhelming majority - 640 in favour to 11 against - a rare outcome in the European Parliament. This is the first legislative BRexit -linked report thatwas approved by Parliament, led and negotiated by a Maltese MEP.

This legislation created a mechanism that minimises the impact that the UK withdrawal from the Union might have on the automotive industry and gives an element of continuance in the trade of cars, their components and vehicles in general. This also means that jobs in such an important industry have been safeguarded, consumers have been protected, and road safety and market surveillance have been addressed in a legal framework.

"I am proud to have led the negotiations on behalf of Parliament and to have been able to finalise the first BRexit related report. Even though, Brexit still harbours uncertainty, and raises questions to which all citizens want an answer, we as a Union must be prepared for any eventuality to ensure the least disruption of our industries, reduce the risk of job losses and ensure that consumers are protected in what concerns a very important product - cars and components," said MEP Mizzi.

MEP Mizzi said: "While being cautious in our approach, we negotiated what would give the best possible outcome for both the EU and the UK. Thus, we have found a balanced approach - still maintaining our position on: liability of both manufacturers and type-approval authorities, giving manufactures enough time to apply for new type-approval certificates that guarantee that standards of the Union are met and lastly on having an element of preparedness. The latter, will also be an element that shall be mirrored in other BRexit preparedness legislation."

The Mizzi report managed to get the approval of all the political groups from all the member states, rendering it one of the strongest supported legislative reports thathave been voted upon. The report will now be incorporated in the Brexit legislation being agreed upon between the UK and the EU.




Fri, 14 Dec 2018 10:20:00 +0100

Watch: Video captures aftermath of France attack suspect shootout


The immediate aftermath of the shootout between French security forces and the suspect in the Strasbourg attack has been caught on camera from across the street, with video footage showing armed officers at the scene and the body of the man slumped in a doorway.

More officers arrive at the scene soon after, followed by crime scene investigators who take photos of the body and the surroundings.

The Paris prosecutor's office, which handles terror cases in France, formally identified the man on Thursday as 29-year-old Cherif Chekatt, a Strasbourg-born man with a long history of convictions for various crimes, including robberies. Chekatt also had been on a watch list of potential extremists.

Chekatt was suspected of killing three people and wounding 13 near Strasbourg's Christmas market on Tuesday night.


Fri, 14 Dec 2018 10:01:00 +0100

Tonight's €85m EuroMillions Jackpot means Christmas could come early this year


The EuroMillions lottery is keeping players across Malta on the edge of their seat as tonight's draw is only few hours away. With a jackpot of €85M and the chance to take part from Malta with Jackpot.com, Santa Claus might need to cross a few locals off his list because their Christmas could be coming early!

If you are wondering if a local can actually win on the EuroMillions draw, then let the story of Malta's own Maria give you all the proof you need. Maria, from St Julian's, couldn't believe her luck when she won the €97,000 top prize just a few months ago with her Jackpot.com EuroMillions subscription.

Now's the perfect time for a Christmas win to bring some extra cheer, but could it be you? Here's how you can enter in the draw:

● Sign up online with Jackpot.com

● Select the EuroMillions lottery

● Choose 5 numbers from 1-50 and 2 lucky stars from 1-12.

● Sit back and wait for the draw tonight!

With Jackpot.com, you can bet on all of the world's biggest lotteries instantly from your computer or mobile device, and if you win, you'll receive the same pay-out as you would with a physical ticket - no hidden surprises.

If it's your first time playing online, rest assured Jackpot.com is fully regulated by the Malta Gaming Authority and they have a friendly Customer Experience Team on hand to assist you with any questions you may have.

Maybe it's about time Malta had another slice of the EuroMillions action, so sign up and see if you can beat Santa at his own game with a surprise like no other this Christmas!

------

This is sponsored content


Fri, 14 Dec 2018 10:00:00 +0100

Updated: PM's wide power of appointments creates serious risk to rule of law – Venice Commission
In a statement today, the Council of Europe's Venice Commission legal experts said that it has adopted an opinion which finds that the power of the Prime Minister in Malta widely overshadows other government bodies, including the President, Parliament, the Cabinet of Ministers, the Judiciary and the Ombudsman.
While the full test of the as-adopted opinion will be made available on Monday, The Malta Independent had acquired a copy of the draft version before-hand. The draft report read that the wide powers of appointments that the Prime Minister - as an office - enjoys, make this institution too powerful and create a serious risk to the rule of law.
The European Commission for Democracy through Law - better known as the Venice Commission's role is to provide legal advice to its member states and, in particular, to help states wishing to bring their legal and institutional structures into line with European standards and international experience in the fields of democracy, human rights and the rule of law.
The Parliamentary Assembly of the Council of Europe's (PACE) Legal Affairs Committee had asked the Venice Commission to provide an opinion on Malta's constitutional arrangements on the separation of powers and the independence of the judiciary and law enforcement bodies. A few days later, Justice Minister Owen Bonnici requested an opinion on Malta's legal and institutional structures of law enforcement, investigation and prosecution in light of the need to secure proper checks and balances, and the independence and neutrality of the institutions and their staff, whilst also securing their effectiveness and democratic accountability.
Representatives of the commission came to Malta in November and met with the Acting Prime Minister, the Justice Minister, the Chief Justice, the Judges' Association, the President of Malta, the government's Parliamentary Whip, Opposition Members of Parliament, the Ombudsman, the Police commissioner, the Malta Police Association, the Police Officers Union, the Dean of the Faculty of Law, and representatives of Civil Society.
Reforms not sufficient
In their draft opinion, the Venice Commission welcomed that the Maltese government had already embarked on a process of reforms, however says that these reforms are not sufficient. "The Commission notes that all its interlocutors acknowledged the need for further reform of the institutional settings, notably as concerns the judiciary and particularly, the role of criminal prosecution."
The Commission said that it hopes the necessary consensus for change at the constitutional level can be achieved.
"The Prime Minister is at the centre of power and other actors (the President, Parliament, the Cabinet of Ministers, the Judiciary, the Ombudsman) have too weak an institutional position to provide sufficient checks and balances."
On the judiciary, the Commission states in the report that judicial power is the field in which the delegation encountered calls for reform from nearly all stakeholders, "notably as concerns the role of the prosecution. Judicial appointments are another topic which merits special attention."
The Commission, in their draft opinion, highlight that the introduction of the Judicial Appointments Commission in 2016 was a step in the right direction, however falls short of ensuring the independence of the judiciary. "The double role of the Attorney General as advisor of the government and as prosecutor is problematic," the draft opinion reads.
"A part-time Parliament is too weak to exercise sufficient control over the executive branch of power (government). The wide powers of appointments, that the Prime Minister enjoys, make this institution too powerful, and create a serious risk for the rule of law."
"Taking into account the Prime Minister's powers, notably his or her influence on judicial appointments, crucial checks and balances are missing," the report reads. "The problem is accentuated by the weakness of civil society and independent media."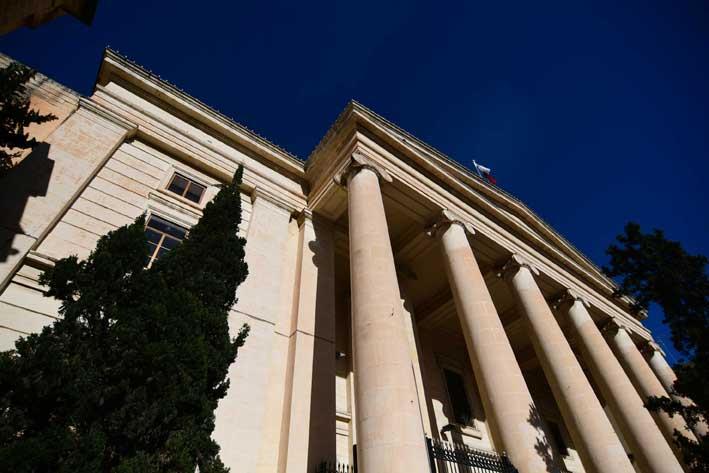 Recommendations
The Commission made a number of recommendations to deal with these issues in their draft opinion report. Firstly, the commission said that judicial vacancies should be announced (and says that currently they are not), and that an enlarged Judicial Appointments Committee should vet and rank applicants, including for the position of Chief Justice, and the committee should propose candidates directly to the President of Malta for appointment.
The report highlights that currently, the President appoints judges and magistrates acting in accordance with the advice of the Prime Minister. A Judicial Appointments Committee was established in order to vet candidates for judicial appointments to make recommendations to the Prime Minister, through the Minister responsible for justice, about its evaluation on the eligibility and merit of the candidates for appointment, except in the case of the chief Justice.
The Commission, in their draft opinion report, stated that the Judicial Appointment's Committee's role, in effect "is to identify a pool of candidates for the judiciary from whom the Prime Minister has an uncircumscribed statutory discretion to appoint judges and magistrates."
The Commission also states that the dismissal of judges and magistrates should not be made by Parliament, and that judgements by the Constitutional Court finding legal provisions unconstitutional should have erga omnes force. "Laws of provisions thereof that have been found unconstitutional by the Constitutional Court remain 'on the books' and are not removed from the body of laws. It is up to Parliament to repeal or amend such laws. In practice, this seems not to happen in all cases and the Constitutional Court is faced with repetitive cases."
"The execution of judgements of the Constitutional Court is an essential requirement of the rule of law. Leaving the choice of whether or not to follow the judgements of the Constitutional Court to Parliament does not live up to this requirement." The Commission recommends amending the Constitution so that, when a legal provision is found to be unconstitutional by the Constitutional Court, it loses legal force with the publication of the court judgement. It suggests that the Constitutional Court be empowered to postpone the entry into force of the repeal of the provision concerned by a specified period in order to avoid gaps in the law.
Splitting the Attorney General's role

The Commission recommends that an independent Director of Public Prosecutions (DPP) be established, who would take over prosecuting powers and corresponding staff from the Attorney General, and the police. This is not the first time the Attorney General's double role has raised concerns, with this issue having been raised in the past. This DPP would also absorb the function of Magisterial inquests, the Commission says.

The Commission said, in their draft opinion report, that the concentration of the powers of adviser to the government and prosecutor in one institution makes the office very powerful. "This is problematic from the viewpoint of the principle of democratic checks and balances and the separation of powers."

The Commission also highlights that the "powers of the Attorney General, as prosecutor, to start, stop and discontinue criminal proceedings, which are not subject to judicial review, do not comply with the modern notions of the rule of law. Already now, non-prosecution can be challenged in court. The powers of the new DPP should be subject to judicial review, notably as concerns non-prosecution, upon request by the victims."

'It would be preferable for the President to be more remote from the majority of the day'

Turning to the role of the President, the Venice commission believes it should be strengthened, by attributing more powers to the Office to act without the advice of the Prime Minister, "and possibly by electing the President by qualified majority."

"From the viewpoint of Constitutional checks and balances, it would be preferable for the President to be more remote from the majority of the day. The President can be an important check on the wide powers of the executive."

The Commission recommends strengthening Parliament's powers, by tightening rules on conflicts on incompatibility, "notably as concerns appointments of MPs to Officially Appointed Bodies. MPs should benefit from non-partisan information to perform their controlling function (increase of research staff or establishment of a senior consultative body)."This, they argue, should be accompanied by an increase of MPs salaries, which would allow MPs to focus on Parliamentary work.

Limit positions of trust

Another proposal is to reduce the appointing powers of the Prime Minister, "notably as concerns independent commissions and permanent secretaries." They also recommend that appointments to positions of trust should be strictly limited.

"In the Constitutional arrangements currently in force in Malta, the Prime Minister is predominant." This in itself could be unproblematic if a solid system of checks and balances were in place, the Commission said, while highlighting that the other actors are not sufficiently strong to significantly contribute to the system of checks and balances.

In terms of persons and positions of trust, the Commission highlights that there can be a legitimate need for ministers to benefit from the assistance of persons of trust who assist them in implementing their political programme, however note that the numbers of such persons should not be excessive.

The Commission said it was informed that there are some 700 such persons, and that even persons working as gardeners and drivers have been recruited under this procedure. "The Commission cannot investigate such cases. It is, however, evident that any exception to procedures that provide for appointments on merits are a danger to the quality of the civil service."



Fri, 14 Dec 2018 09:22:00 +0100

Indepth: Endorsing Muscat's Labour leadership bid was a mistake – Ana Gomes


Socialist MEP Ana Gomes has said that she regrets backing Joseph Muscat's Labour leadership bid.

Gomes, who is a harsh critic of Muscat's government, was speaking on Indepth, which was this week filmed at the European Parliament in Strasbourg.

Last week, the Portuguese MEP heckled Muscat as he took the stage at the Socialist group's congress in Lisbon.

Gomes told The Malta Independent's Editor-in-chief Rachel Attard that she was not the only member of the congress who had shouted "shame" at the Maltese prime minister, adding that several other MEPs had contacted her later to show support.

Gomes said it was not only Muscat who should have been ashamed of himself, but also the organisers who allowed him to participate. "His being there did not enhance the credibility of the Socialist group."

"Muscat is the leader of two people who have been revealed as crooks," she said, referring to Tourism Minister Konrad Mizzi and OPM chief of staff Keith Schembri. "They are being protected by the government. This does not represent socialist values."

Gomes continued: "I believe it is very unfortunate that someone like Muscat, whose government is stalling justice for journalist Daphne Caruana Galizia, has been allowed to speak at the congress as if he was someone who could give credibility to our political family. It doesn't."

The Socialist MEP said it was very worrying that the revelations of 17 Black "have not been followed up by the police, and that the Egrant report has not been made public in full.

"Mizzi and Schembri were not only not sacked, bu0t they are kept in a position where they can continue in their criminal activity, as seen through recent revelations," she charged.

Asked if she had faith in the Maltese courts, she said the problem was that, ultimately, the matter would have to go to the police or the Attorney General's office, which are not completely independent.

She said there have been other cases that were not "properly pursued", like the case of former European Commissioner John Dalli.

On Adrian Delia

Asked if she felt comfortable working with PN MEPs on rule of law missions when she is now also calling for Adrian Delia's resignation, Gomes said: "I do not go into the Maltese logic of portraying this as a fight between the PN and PL. I am a true socialist ... I am more demanding about those from my own political family. But when I see corrupt or criminal behaviour, wherever it may come from, I will act."

Gomes said Daphne Caruana Galizia had "denounced Delia as a crook," reporting on his "business of dubious origin.

"Apparently these elements are there, so I think this person should not be the Leader of the Opposition."

On Joseph Muscat

Asked about her previous endorsement of Muscat when he was running for Labour leader, Gomes said that was a mistake. "I do not support him anymore."

"Muscat is discrediting our political family. He leads a government that protects corruption and stalls an investigation."

Gomes clarified that she has never actually asked for the PM's resignation.

"I hope the police does its work with regards to Delia, Mizzi, Schembri, Dalli ... whoever."

She also referred to the latest developments involving Neville Gafa, saying that the government had only taken action several months after the first report of alleged wrongdoing. On the other hand, no action was taken against Mizzi and Schembri. "Is the PM controlling them or are they controlling him?" she asked.

Asked if she had an obsession with Malta and Maltese politics, Gomes said she had always been interested in the country but became more "engaged" after the murder of Daphne Caruana Galizia.

"This is a democratic obligation for a socialist. It concerns us all. It concerns democracy in the EU. Malta is important and I feel this obligation. Whether its small or big country, this is the EU and what happens in Malta affects us all. It's not an obsession about Malta but an obsession with democracy and the rule of law."


Fri, 14 Dec 2018 09:00:00 +0100

Alfred Sant says European elections must ensure best levels of social protection


Former Prime Minister and Maltese MEP Alfred Sant said the May European Elections must ensure the best levels of social protection in terms of quality of life and wellbeing across Europe. The implementation of social policies across Europe should remain in large part a matter for national authorities to determine the when and the how, in response to changing economic and social requirements within their communities.

Sant, speaking at a social activity in Rabat organised by Dominic Grech, IDEAT Chairman and prospective candidate for the Siggiewi Local Council, said decisions in the eurozone placed the social burdens of economic strategies on workers and the least well off, thereby flagrantly contradicting what used to be considered as the European social model.

"National governments across the EU must strengthen labour laws and social security, education and pensions. The reality is that the principles guiding economic management in the EU are, as a matter of policy, constrained by neo-liberal perspectives. Great disparities persist between the North and South of Europe."

The Maltese MEP said Europe must ensure that its commitment to a European pillar of social rights is long-lasting. Compared to the rest of the world, Europe has the best levels of social protection and ranks highly in terms of quality of life and wellbeing. However, it faces a wide range of challenges: The effects of the economic crisis are still deeply felt in many member states and, even though things have already improved in many countries, great disparities remain within the EU. Unemployment rates are decreasing overall but vary strongly among EU countries.


Fri, 14 Dec 2018 07:43:00 +0100

EU leaders wary of May's plea for help selling Brexit deal
British Prime Minister Theresa May implored European Union leaders Thursday to help her sell the Brexit divorce deal at home, only to be told that her proposals are not clear enough for the bloc to offer a helping hand now.
Instead, the EU said it would plow ahead with plans for a cliff-edge "no-deal" Brexit on March 29, with a raft of contingency measures to be presented next week.
May came to an EU summit in Brussels seeking support after a week that saw her Brexit deal pilloried in Parliament and her job threatened by lawmakers from her own party. She pleaded with the 27 other EU leaders to "hold nothing in reserve" in helping her sell the Brexit deal to hostile British lawmakers.
"There is a majority in my Parliament who want to leave with a deal, so with the right assurances this deal can be passed," May said, warning her EU counterparts that failure could mean Britain crashing out of the bloc without a deal, "with all the disruption that would bring."
EU officials, however, seemed exasperated at the lack of concrete new ideas from Britain. A proposal for encouraging wording offering to give the U.K. further assurances was left out of the leaders' final summit conclusions on Brexit.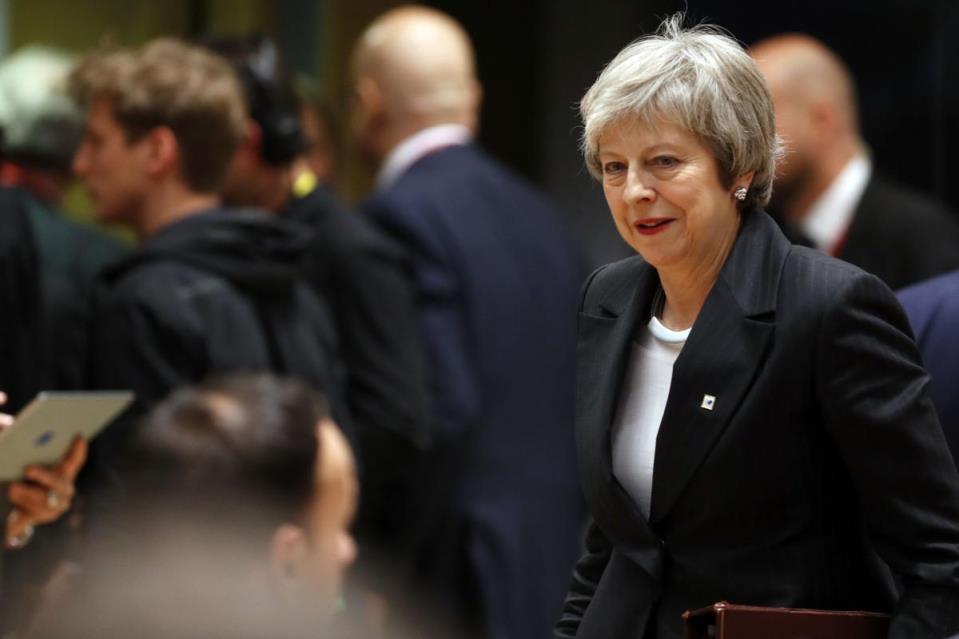 "I do find it uncomfortable that there is an impression perhaps in the U.K. that it is for the EU to propose solutions," European Commission President Jean-Claude Juncker said at a news conference early Friday. "It is the UK leaving the EU. And I would have thought it was rather more up to the British government to tell us exactly what they want."
He said the British must "set out their expectations" within weeks if they want to make progress and avoid tumbling out of the EU without a deal.
May had earlier acknowledged that major progress was unlikely at the two-day summit, even as she tried to get tweaks to the withdrawal package that she could use to win over opponents — particularly pro-Brexit lawmakers whose loathing of the deal triggered a challenge to her leadership this week.
"I don't expect an immediate breakthrough, but what I do hope is that we can start work as quickly as possible on the assurances that are necessary," May said.
Her week from hell began Monday, when she scrapped a planned vote in Parliament on her Brexit divorce deal at the last minute to avoid a heavy defeat.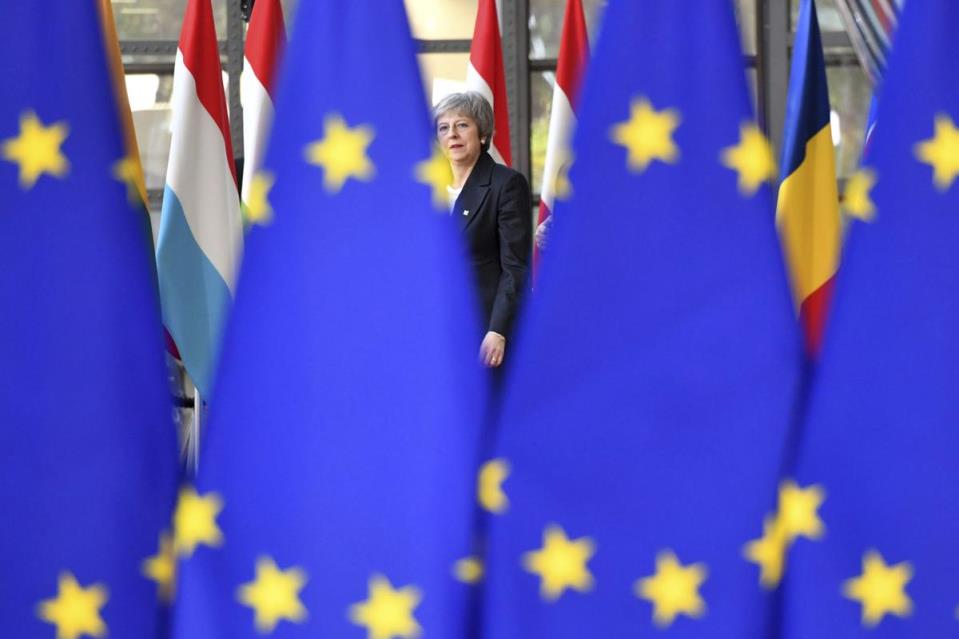 Anger at the move helped trigger a no-confidence vote among May's own Conservative lawmakers Wednesday. May won, but more than a third of her party's lawmakers voted against her in a sign of the unpopularity of her Brexit plan. To secure victory, she promised she would step down as Conservative leader before Britain's next national election, which is scheduled for 2022.
The 27 other EU nations are adamant there can be no substantive changes to the legally binding agreement on Britain's withdrawal from the bloc and declared that the deal was "not open for renegotiation."
"It is important to avoid any ambiguity," said French President Emmanuel Macron. "We can't renegotiate something which has been negotiated over several months."
The Brexit deal has many critics but one intractable issue — a legal guarantee designed to prevent physical border controls from being imposed between Northern Ireland, which is part of the U.K., and the Republic of Ireland, a member of the EU. Northern Ireland's 1998 peace accord depends on having an open, invisible border with Ireland.
A Brexit provision known as the backstop would keep the U.K. part of the EU customs union if the two sides couldn't agree on another way to avoid a hard border.
Pro-Brexit lawmakers strongly oppose the backstop, because it keeps Britain bound to EU trade rules and unable to leave without the bloc's consent. Pro-EU politicians consider it an unwieldy, inferior alternative to staying in the bloc.
May told EU leaders that to win U.K. backing for the deal, "we have to change the perception that the backstop could be a trap from which the U.K. could not escape."

But while Britain would like a guarantee that the backstop will be temporary, the EU insists there can be no fixed end date.

"If the backstop has an expiry date, if there is a unilateral exit clause, then it is not a backstop," said Irish Prime Minister Leo Varadkar. "That would be to render it inoperable."

The leaders gave May a few crumbs of comfort in their summit conclusions. As a sign of goodwill, the EU said preparations for trade relationships would start as soon as possible after British and EU legislatures approved the deal.

They promised to work for speedy new trade deal with Britain to avoid triggering the backstop, and underscored that the measure was intended to be temporary, saying it "would only be in place for as long as strictly necessary."

But May remains a weakened leader atop a government and a Parliament whose members are deeply and damagingly divided over Brexit.

Juncker said it sometimes was tough to fathom his own state of mind but added: "It is even harder to understand the state of mind of the British MPs. "


Fri, 14 Dec 2018 07:33:00 +0100

UEFA Europa League: AC Milan crash out to Olympiacos; Sevilla, Villarreal, Genk advance
Milan are out of the Europa League after a 3-1 defeat to Olympiacos, but it was decided by an extremely controversial penalty.
The Rossoneri could afford to lose and still qualify, albeit not by two clear goals, as they visited Athens for the final Europa League group game. Along with long-term absentees Alessio Romagnoli, Mattia Caldara, Giacomo Bonaventura and Lucas Biglia, Suso was not risked due to a muscular issue, starting Samu Castillejo instead. Olympiacos had to do without Lazaros Christodoulopoulos, Yassine Meriah, Dimitris Nikolaou, Nahuel Leiva, Yaya Toure, Ahmed Hassan and Alexandros Voilis.
Pepe Reina had to sprint off his line to clear from Miguel Angel Guerrero within 20 seconds, as a long ball had surprised Cristian Zapata.
Hakan Calhanoglu fired straight at Jose Sa, while Ignazio Abate made a crucial interception to stop Guerrero nodding in from six yards.
Patrick Cutrone's through ball released Gonzalo Higuain, though Jose Sa rushed off his line to parry at his feet. On the resulting corner, Cristian Zapata's header into the ground was palmed over the bar.
Reina completely missed a corner on 26 minutes, but Guilherme's follow-up was charged down by Cristian Zapata. Franck Kessie stung the goalkeeper's gloves at the near post, but Reina also got down well to palm a Fortounis free kick round the upright.
Straight after the restart, Giannis Fetfatzidis cut inside to curl just wide of the far post with his left boot from the edge of the penalty area. Kessie did the same with a ferocious strike skimming the upright, but Calhanoglu wasted a golden opportunity on the counter.
Reina smothered an impressive Omar Elabdellaoui volley, but Milan were caught out on a corner.
It was taken short, Higuain back in defence charged down the initial header, but Pape Abou Cisse turned in the rebound.
Milan came pouring forward to get it back on track, opening up huge spaces at both ends. Cutrone and Higuain fired just wide, but Reina performed a desperate save on Fortounis and the Podence follow-up was cleared off the line by Cristian Zapata.
Olympiacos got the goal they needed to go 2-0 up with a stroke of luck, as the Guilherme shot from distance took a huge deflection off Cristian Zapata's ankle to loop over Reina and into the far top corner.
However, within 110 seconds he had made up for it, his header from a corner squirming under Jose Sa and only cleared after it had crossed the line. With this result, Milan would still be qualified, but they couldn't lose 3-1.
Abate made a heroic block on Guerrero from point-blank range after Castillejo had been left behind, but Olympiacos received a very soft penalty for Abate having an arm on the shoulder of Vasilis Torosidis. Fortounis converted by sending Reina the wrong way and suddenly Olympiacos were in a position to qualify.
The hosts tried every trick in the book to waste time, from goalkeeper Jose Sa needing treatment for cramp to the ball boys throwing extra balls out every time Milan attacked.
Sevilla, Villarreal, Genk advance in Europa League
Sevilla, Villarreal and Genk qualified for the knockout rounds of the Europa League on Thursday, the final night of group-stage matches.
Rapid Vienna, Malmo, Krasnodar, Rennes and BATE also advanced, with the final three spots in the next phase to be determined in the remaining matches later Thursday.
Sevilla advanced from Group J after a 3-0 win over Krasnodar, which also advanced. Villarreal defeated Spartak Moscow 2-0 to progress from Group G with Rapid, which scored in the 84th minute to win 1-0 and knock out Rangers.
Genk cruised to the next phase with a 4-0 rout of Sarpsborg in Group I, and Malmo also made it with a 1-0 away victory over Besiktas.
Rennes' new coach, Julien Stephan, celebrated a 2-0 victory in Group K and a spot in the next round by knocking out Astana.
Arsenal, Bayer Leverkusen, Chelsea, Dinamo Zagreb, Dynamo Kiev, Eintracht Frankfurt, Fenerbahce, Lazio, Real Betis, Salzburg, Sporting, Zenit and Zurich already booked their places in the round of 32 earlier in the competition.
Eight teams knocked out of the Champions League — Benfica, Club Brugge, Galatasaray, Inter Milan, Napoli, Shakhtar Donetsk, Valencia and Viktoria Plzen — also qualified for the round of 32 by finishing in third in their groups.
The draw for the round of 32 will be held on Monday, an hour after the Champions League draw is held.
Chelsea failed to keep a perfect record, but Willian and Olivier Giroud salvaged a 2-2 draw against Vidi by scoring from free kicks.
Here's a look at Thursday's action:
TIGHT GROUPS
All eight teams were in a position to advance from tightly contested groups G and I.
Samuel Chukwueze was in the right place for Villarreal when he scored from a deflected shot in the first half, and Karl Toko Ekambi doubled the lead from a tight angle in the second as Villarreal topped Group G with 10 points.
Rangers had the support from their fans in Vienna, but substitute Dejan Ljubicic scored six minutes from time as Rapid advanced, also with 10 points.
In Group I, Genk needed a draw against Sarpsborg but refused to play it safe. Forward Zinho Gano needed just three minutes to volley home an opener, and midfielder Joseph Paintsil collected a precise pass from captain Alejandro Pozuelo to calmly to make it 2-0 five minutes later. Sander Berge and Joseph Aidoo put it beyond doubt with a pair of goals scored within three minutes in the second half.
In Istanbul, Marcus Antonsson stunned Besiktas with a second-half goal to send Malmo through with nine points.
Besiktas' efforts to equalize, which would have been enough to advance, took a hit when Ricardo Quaresma received a red card in the 65th minute.
CHELSEA HELD
Willian was the only player who started in the Premier League victory over Manchester City on Saturday to start on Thursday, and he opened the scoring from a free kick after half an hour.
Ethan Ampadu headed in an own goal two minutes later in his European debut, marking only the second time Chelsea had conceded in the Europa League.
Vidi moved ahead in the 56th minute when Loic Nego finished a counter with a precise volley, but Giroud, a second-half substitute, curled in an equalizer in the 75th minute.
Chelsea topped Group L with 16 points. BATE became the second team to advance from the group with nine points after a 3-1 win at PAOK.
SEVILLA SAFE
Wissam Ben Yedder made sure to ease Sevilla's worries with two goals in the first 10 minutes, exploiting a defensive mistake five minutes in and controlling a long ball before scoring past goalkeeper Stanislav Kritsyuk five minutes later for his fifth group-stage goal.

Krasnodar was reduced to 10 men early in the second after Cristian Ramirez's handball on the goal line stopped Andre Silva's header. Ever Banega increased the lead by scoring on the ensuing penalty.


Thu, 13 Dec 2018 23:18:00 +0100

Updated (2): Strasbourg market attack suspect killed in police shootout
The man authorities believe killed three people during a rampage near a Christmas market in Strasbourg died Thursday in a shootout with police at the end of a two-day manhunt, French authorities said.
The Paris prosecutor's office, which handles terror cases in France, formally identified the man killed in the eastern French city as 29-year-old Cherif Chekatt, a Strasbourg-born man with a long history of convictions for various crimes, including robberies. Chekatt also had been on a watch list of potential extremists.
Interior Minister Christophe Castaner, speaking earlier from Strasbourg, said police had spotted a man matching the suspect's description in the city's Neudorf neighborhood.
"The moment they tried to arrest him, he turned around and opened fire. They replied," killing the man, Castaner said.
Chekatt was suspected of killing three people and wounding 13 near Strasbourg's Christmas market on Tuesday night. Castaner said earlier Thursday that three of the injured had been released from hospital and three others were still fighting for their lives.
"Our engagement against terrorism is total," French President Emmanuel Macron, who was in Brussels for a European Union summit, said in a tweet thanking security forces.
Five people have been arrested in connection with the investigation, including Chekatt's parents and two of his brothers. The Paris prosecutor's office said the fifth, who was arrested Thursday, was a member of Chekatt's "entourage" but not a family member.
Witnesses said the gunman shouted "God is great!" in Arabic and sprayed gunfire from a security zone near the Christmas market on Tuesday. Security forces wounded the man but he managed to escape in a taxi, which dropped him off in the Neudorf neighborhood.
More than 700 officers searched for Chekatt, government spokesman Benjamin Griveaux told CNews television.
Chekatt was well-known to police but as a common criminal, not a terrorist. He had his first conviction at 13, and had 26 more by the time he died at age 29. He served jail time in France, Germany and Switzerland.
A local police official, who spoke on condition of anonymity because he was not authorized to speak publicly, said the man who shot at police Thursday night had been armed with a pistol and a knife.
Strasbourg Mayor Roland Ries said police had acted on a tip from a woman.
Residents described hearing shots on the street where Chekatt faced off with police, prompting new jitters after two days marked by tension in and around Strasbourg, which lies on the border with Germany and is considered as symbol of European unity.
The SITE Intelligence Group, which monitors extremist activity online, said the Islamic State group's Amaq news agency was claiming the gunman as a "soldier" of the group, although IS claims of responsibility have often been considered opportunistic.
Chekatt's motives remain vague. Authorities had put him on a watch list three years ago for suspected radicalism, but said they didn't detect signs he was ready to act on it — a pattern in several past attacks in France.
France raised its three-stage threat index to the highest level after Tuesday's attack and deployed 1,800 additional soldiers across the country to help patrol streets and secure crowded events.
Security forces, including the elite Raid squad, spent hours Thursday searching in the Neudorf neighborhood where Chekatt had grown up based on "supposition only" he might have been hiding in a building nearby, a French police official said.
Residents of the Neudorf neighborhood expressed relief after Chekatt was killed.
"Everybody's quite happy that the killer has been finally shot. I think now, the city and life can keep going on in Strasbourg," resident Pierre Plasse said.
One of the three who died in Tuesday's attack was a Thai tourist, 45-year-old Anupong Suebsamarn, according to the Thai Foreign Ministry. An Italian journalist was in critical condition, Italian Interior Minister Matteo Salvini said. The Europhonica radio consortium said Antonio Megalizzi, 28, was in Strasbourg to follow the session of the European Parliament.

The leaders of the 28 European Union countries held a moment of silence for the victims at their summit Thursday.

Before Thursday's shootout, hundreds of people gathered in Strasbourg's renowned 500-year-old cathedral to mourn and seek comfort.

"Evil does not prevail," Archbishop Luc Ravel said. "And the message of Christmas has not been contradicted but rather confirmed by Tuesday's dramatic night: Evil and good are both there, but in the end the good will have last word."


Thu, 13 Dec 2018 21:48:00 +0100

Late Fontanella strike hands Valletta twelfth Super Cup
Valletta-Balzan 2-1
Valletta: H. Bonello, J. Caruana, S. Borg, S. Malano, M. Picciolo, E. Pena Beltre, R. Saleh, R. Muscat, M. Alba (K. Nwoko 85'), B. Kaljevic (J. Borg 80'), M. Fontanella (N. Pulis 90').

Balzan: S. Sultana, J. Griolo (S. Bezzina 46'), D. Camilleri (A. Majdevac 76'), N. Sljivic, A. Da Paixao Alves, M. Johnson (L. Micallef 87'), A. Effiong, U. Ljubomirac, I. Bozovic, E. Serrano Valero, C. De Fiori Mendes.

Referee: Trustin Farrugia Cann

Ass.referees: Alan Camilleri, Christopher Francalanza

Fourth Official: Stefan Pace

Scorers: M. Johnson 8' og, A. De Paixao Alves 37', M. Fontanella 77'

Yellow cards: B. Kaljevic, A. De Paixao Alves, R. Muscat, C. De Fiori Mendes, M. Fontanella, I. Bozovic. E. Serrano Valero, M. Picciolo

Attendance: 2.241

A Mario Fontanella well taken goal thirteen minutes from time proved to enough for champions Valletta to lift yet another piece of silverware, winning the Super Cup for the twelfth time. It was a deserved victory, even though by recent standards the champions' performance left much to be desired.

For Balzan another close shave as they once again failed to make history by winning their first ever competition, but on the day the champions were slightly the better team to take home another trophy to add to their vast collection.

It was a boring final, scrappy at times with practically no shot at goal, apart from the three goals scored in the whole ninety minutes. Valletta were always in control, but Balzan held their ground and were never boxed in their area.

Miguel Angel Alba was once again one of the best for his side with both Valletta goals coming from his crosses. Otherwise Valletta were as usual very solid at the back, even though Balzan's equaliser came from an erratic pass from Pena Beltra.

Valletta had a good start forging ahead thanks to a gift own goal scored by Michael Johnson, but this mistake was reciprocated by the Citizens with Pena Beltre's mistake putting through De Paixao Alves, who then scored a great goal.

In the second half Valletta held the initiative, but Sultana was never tested, and the winning goal scored by Fontanella was effectively the only shot on target in the second half.

Valletta went in front in their first real attack when from an Alba cross from the right, Balzan defender Michael Johnson, pressed by Kaljevic shot into his own net from close range. Balzan failed to react and Valletta controlled with ease and the match just failed to lift off.

On 21 minutes Steve Borg just failed to connect to a Miguel Alba freekick from the left. Six minutes later the same Alba had his effort direct at goal from another freekick going over the bar. On 37 minutes almost against the run of play, Balzan drew level when Valletta lost possession in midfield and Balzan had a swift break with Alex De Paixao Alves firing home a beauty from an angle.

Balzan were forced to change Grioli with Bezzina at the start of the second half but the match remained scrappy. The monotony was broken on 77 minutes when Alba floated a good cross from the right and in nipped Mario Fontanella to score a good goal from close range.

At the end Valletta were presented with the Super Cup to the delight of their loyal, but yesterday not so numerous supporters.


Thu, 13 Dec 2018 19:09:00 +0100

18-year-old threatened to publish pictures after sex with girl, 13


An 18-year old man was on Thursday accused of corrupting a 13-year-old girl and threatening to publish compromising pictures of the girl if she ended the relationship with him.

The 18-year-old man from Gharghur was charged on court after the girl's mother informed the police after finding chats on her daughter's phone indicating that they were in a sexual relationship.

Inspector Roxanne Tabone told the court the accused threatened to share intimate photographs the girl had sent him.

The prosecution explained that the man worked as a security officer at Mater Dei hospital car park. The accused worked just five minutes away from where the girl lives.

Bail was denied given the nature of the charges.
A ban on the publication of the names of those involved was ordered.

Magistrate Natasha Galea Sciberras presided.


Thu, 13 Dec 2018 18:14:00 +0100

UK leader seeks EU lifeline after surviving confidence vote


British Prime Minister Theresa May was seeking a Brexit lifeline from European Union leaders Thursday after winning a no-confidence vote among her own Conservative lawmakers at home — a victory won only after she put a time limit on her leadership.

May won the vote in London on Wednesday night after promising lawmakers privately that she would quit before Britain's next national election, which is scheduled for 2022.

Arriving in Brussels for an EU summit, May said "in my heart, I would love to be able to lead the Conservative Party into the next general election."

"But I think it is right that the party feels that it would prefer to go into that election with a new leader," May said. She didn't specify a date for her departure.

May headed to the EU summit in Brussels seeking reassurances about the divorce deal that she can use to win over a skeptical British Parliament, particularly pro-Brexit lawmakers whose loathing of the deal triggered the challenge to her leadership.

May caused an uproar in Parliament on Monday when she scrapped a planned vote on her Brexit divorce deal at the last minute to avoid a heavy defeat. Two days later she won a leadership vote among Conservative lawmakers by 200 votes to 117.

The victory gives May a reprieve — the party can't challenge her again for a year. But the size of the rebellion underscores the unpopularity of her Brexit plan.

The EU is adamant there can be no substantive changes to the legally binding agreement on Britain's withdrawal from the bloc but have suggested that there could be some "clarifications."

"The deal itself is non-negotiable," Dutch Prime Minister Mark Rutte said in Brussels. "So today is about clarification."

Rutte said EU leaders were willing to listen to May, who will address them before a summit dinner where they will discuss Brexit — and eat the meal — without her.

May said her focus "is on ensuring that I can get those assurances that we need to get this deal over the line."

"I don't expect an immediate breakthrough, but what I do hope is that we can start work as quickly as possible on the assurances that are necessary," she said.

U.K. Brexit Secretary Stephen Barclay told the BBC that there were signs of "positive" movement from the EU on the most intractable issue — a legal guarantee designed to prevent physical border controls being imposed between Northern Ireland, which is part of the U.K., and the Republic of Ireland, a member of the EU.

The provision, known as the backstop, would keep the U.K. part of the EU customs union if the two sides couldn't agree on another way to avoid a hard border.

Pro-Brexit lawmakers strongly oppose the backstop, because it keeps Britain bound to EU trade rules, and unable to leave without the bloc's consent. Pro-EU politicians consider it an unwieldy, inferior alternative to staying in the bloc.

Irish Prime Minister Leo Varadkar said he discussed possible remedies in a meeting with May on the sidelines of the summit.

"Some of the suggestions she made made sense, others I thought were difficult," he said.

Varadkar said the EU might be able to give Britain "a greater assurance" that speedy talks on a new U.K.-EU trade deal would mean the backstop would never need to be used.

Among EU leaders there is sympathy for May's predicament, but also exasperation at Britain's political mess, and little appetite to reopen the negotiations.

"I don't see that we can change this withdrawal agreement again," German Chancellor Angela Merkel said. "We can, of course, talk about whether there should be additional assurances, but the 27 member states will be very united on this and make their interests clear."

She said the bloc wanted to "have very, very good relations with Britain after Britain's withdrawal."

On Thursday, the German parliament approved a motion stating that the Brexit deal can't be renegotiated. The largely symbolic motion states that "there will not be an agreement that is better and fairer for both sides. Any hope that a rejection of the agreement could lead to its renegotiation must prove to be illusory."

Meanwhile, the clock is ticking down to Britain's departure from the bloc, which is due to take place on March 29 — deal or no deal. A parliamentary schedule published Thursday indicated the Brexit deal won't be debated or voted on before Britain's House of Commons adjourns for a two-week Christmas break on Dec. 20.

The no-confidence vote has left lawmakers from the governing Conservative Party at loggerheads over the way ahead — for Brexit and for May.

Dominic Raab, the U.K. Brexit secretary who quit last month in opposition to May's deal, confirmed that he had voted against her in the party confidence ballot.

"(Now) we will have to back her as best we can," he said, adding that, given the scale of the opposition May faces, "it looks very difficult to see how this prime minister can lead us forward."

Foreign Minister Alistair Burt said in a tweet that Conservative Brexiteers would never be satisfied.

"They never, ever stop. ... After the apocalypse, all that will be left will be ants and Tory MPs complaining about Europe and their leader," he wrote.


Thu, 13 Dec 2018 17:49:00 +0100

Simon Schembri, Tonio Borg and Albert Marshall among those to receive Republic Day honours
Police Officer Simon Schembri, former EU Commissioner Tonrio Borg and Executive Chair of Arts Council Malta Albert Marshall are among those honoured in this year's Republic Day Awards Ceremony.
Twelve members were appointed to The National Order of Merit, two of whom received the award on an honorary basis and another one was awarded posthumously. Ten other individuals were awarded the Midalja għall-Qadi tar-Repubblika. One of the latter was awarded the medal on an honorary basis.
On Republic Day each year, the President, on behalf of the Government and people of Malta, pays public tribute to a number of Maltese citizens who distinguish themselves in different fields of endeavour, by appointing them to The National Order of Merit or to the Xirka Ġieħ ir-Repubblika, or by awarding them the Midalja għall-Qlubija or the Midalja għall-Qadi tar-Repubblika.
Nationals of other countries may be conferred with honorary membership of the Order or of the Xirka or awarded the Midalja għall-Qadi tar-Repubblika on an honorary basis.
This year's Investiture Ceremony again took place at The Palace, Valletta, on Thursday 13 December 2018, immediately following the customary Ceremonial Parade held at the Palace Square.
Tonio Borg
Former PN MP Tonio Borg was made a companion of the National Order of Merit.
He was a member of the Maltese Parliament for twenty years (between 1992 and 2012).He also served as a minister and in 2012 he was appointed European Commissioner for Health, a role which he filled up to 2014.
John Dalli
Former PL MP John Dalli was made an Officer of the National Order of Merit.
Born in 1946, Dalli followed in his footsteps and pursued a political career, and also took up his father's work as a contractor. He contested the General Elections for the first time in 1971, where he was elected as the youngest Member of Parliament. He was re-elected in the subsequent elections held in 1976, 1981, and 1992.
Adrian Vassallo
Former PL MP Adrian Vassallo was made an Officer of the National Order of Merit.
Adrian Vassallo was born and raised in Msida. In 1992, Vassallo contested the General Elections for the first time under the Malta Labour Party. He was elected from the 9th District in 1996, and was re-elected in every subsequent General Election up to the year 2008.
Emmanuele Francesco Maria Emanuele di Villabianca
Emmanuele Francesco Maria Emanuele di Villabianca was made an Honorary Officer of the National Order of Merit. Emmanuele Francesco Maria Emanuele di Villabianca, Baron of Culcasi, is a university professor, Supreme Court Lawyer, economist, banker, expert in financial, tax and insurance issues, and author of various publications.
Michio Endo
Michio Endo was made an Honorary Officer of the National Order of Merit. Endo was appointed representative of the Malta Tourism Authority for Malta in Japan in 1997. He worked tirelessly in order to promote the Maltese Islands amongst the Japanese population.
Joan Abela
Joan Abela was made a Member of the National Order of Merit
Joan Abela is a Senior Lecturer in Legal History and Methodology at the Faculty of Laws, University of Malta. She currently also holds the post of Consultant Historian in the Rehabilitation of the Notarial Archives ERDF Project.
Michael John Bianchi
Michael John Bianchi was made a Member of the National Order of Merit
He is an established entrepreneur, and has been involved in a range of diversified activities, including the introduction of mobile telephony and of the Internet to Malta. Bianchi founded mobile telephony companies outside Malta, and in 1989 he was also the founder of one of Malta's very first service providers in the financial services sector under the Malta International Business Authority and also the founder of one of Malta's very first online gaming service providers in 2006.
Paul Falzon Sant Manduca
Paul Falzon Sant Manduca was made a Member of the National Order of Merit.
Paul Falzon Sant Manduca is a successful entrepreneur who has headed multiple companies throughout his career. Paul Falzon Sant Manduca was an advisor to the Government of Malta prior to EU entry, and promoted the Rothschild Bank of Valletta plc Joint Venture Scheme, when he was a Board member and Global CEO of Rothschild Asset Management.
Mgr. Joseph Farrugia
Mgr. Joseph Farrugia was made a Member of the National Order of Merit.
Mgr. Joseph Farrugia was ordained priest and continued his postgraduate studies at the Pontificia Universitas Gregoriana, Rome, where he obtained a Licentiate in Dogmatic Theology and a Doctorate in Theology. In 1992, Mgr. Farrugia was involved in the setting up of the University Gozo Campus, where he gave the very first course in Mediterranean civilizations and religions.
Albert Marshall
Albert Marshall was made a Member of the National Order of Merit.
In 1971, Marshall started working in Maltese electronic media until 1980 when he emigrated to Australia. In Melbourne, he spent 15 years working in Australian radio, theatre and television. He is the first Maltese national to direct at the Sydney Opera House, where he directed Mary Spiteri in Concert. Marshall was also the first Maltese to direct at the Grant Street Theatre for the Victoria College of the Arts. On his return to Malta in 1996, Marshall was engaged by the University of Malta to lecture in Communication Studies and lead the Distance Learning Programme at the Radju tal-Università. He was appointed CEO of the Public Broadcasting Services Ltd (PBS) in 1997, and three years later he moved to Super One Radio and Television where he started working as consultant and eventually as CEO. Albert Marshall currently occupies the positions of Deputy Chairman of PBS Ltd and Executive Chair of Arts Council Malta.
Clayton Micallef
Clayton Micallef was made a Member of the National Order of Merit.
He was part of the Maltese Army 1st Regiment C special duties company. In 2004, due to an unfortunate accident, he suffered a Spinal Cord Injury which left him paralysed from the neck down, impeding him from moving his legs and arms, and requiring him to very complex mobility and care needs. He required personal assistance 24/7, but this service was inexistent at the moment and despite all setbacks, he persevered for the formation of such a care service. In 2010, a pilot project was funded to set off this type of aid, allowing Micallef to live in the comfort of his own home with personal aid. Micallef also helped in the production of fund raising events and TV programmes aimed at raising awareness on disability and social issues.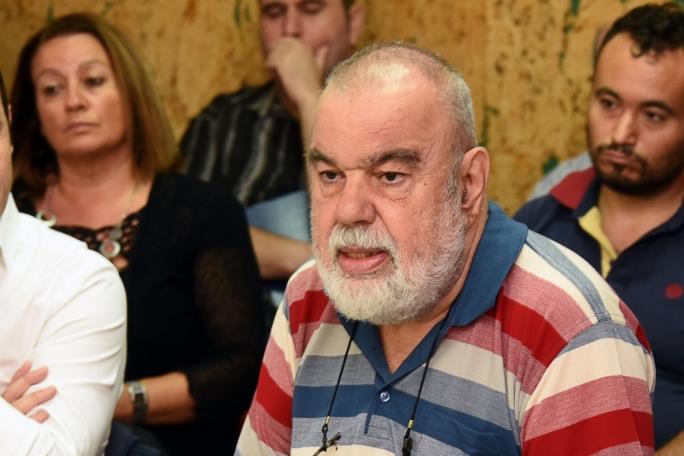 Charles Miceli
Charles Miceli was made a Member of the National Order of Merit.
Charles Miceli was born in Żabbar in 1949. During his twenty-five years working at the printing press, he worked on the reporting and production of the newspapers, and ended his career with an editorial job. Miceli wrote columns on political and social issues in l-Orizzont and it-Torċa. Miceli moved away from his journalistic career, despite the fact that he continued to write on the topics of drugs, prison, and poverty till the very end. Miceli's aspiration was to live by helping others, and thus he spent two years working with the children at Saint Joseph Home in Gozo. In February 1991, Miceli started working with Caritas. Charles Miceli worked hard to open Dar Papa Franġisku, and also led campaigns to raise the minimum wage and to regulate rent rates. Until his last breath and with his family's support, Miceli strove to work for what he believed in.
Roderick Bovingdon
Roderick Bovingdon was awarded the Midalja għall-Qadi tar-Repubblika.
Roderick Bovingdon was born in 1942 in Attard. He moved with his family to Sydney in 1959, and was the first person ever to obtain a pass in Maltese Language Advanced Level through Oxford by correspondence. In 1968, he founded the first School of Maltese Language outside of Malta.
Arthur Gruppetta
Arthur Gruppetta was awarded the Midalja għall-Qadi tar-Repubblika.
Gruppetta dedicated his life to books, and in 1971 he was the first publisher ever to publish a children's book in Maltese (Fra Mudest, by Charles Casha). Throughout a career spanning over 40 years, he was instrumental in launching the literary careers of authors who are nowadays the respected elders of Maltese literature, including Trevor Zahra, Charles Casha, Carmel G. Cauchi, Clare Azzopardi, and many others. A key legacy of Gruppetta's work in the publishing field is that he endeavoured to make children's books in Maltese financially accessible to everyone, thus ensuring that Maltese literature become widespread among generations of children.
In 1966, he introduced Ladybird books into Malta, first in English and later (1973) in editions in Maltese .
Josephine Mahoney
Josephine Mahoney was awarded the Midalja għall-Qadi tar-Repubblika.
Born in Senglea in 1932, Josephine Mahoney is a Maltese actress who, for more than 70 years, took part in various radio, stage, and television productions
Ġanni Pace
Ġanni Pace was awarded the Midalja għall-Qadi tar-Repubblika.
Born in Valletta in 1946, Ġanni Pace is a sculptor and artist.
Pace was commissioned to create several monuments around Malta, and took part in several exhibitions.
Ġorġ Peresso
Ġorġ Peresso was awarded the Midalja għall-Qadi tar-Repubblika.
Born in Vittoriosa in 1939, Ġorġ Peresso is an author, writer, and broadcaster Peresso wrote a number of novels in Maltese.
David Michael Schembri
David Michael Schembri was awarded the Midalja għall-Qadi tar-Repubblika.
David Michael Schembri was born in Qrendi in 1952, and from his youth he enrolled in various voluntary organisations, particularly as a member of Teenagers Din L-Art Helwa.
In 1985, he was commissioned by the Maltese Government to help carry out an underwater video survey in the Grand Harbour. He then led a team of Maltese Construction and Military divers in the clearing and salvaging of the WWII Wreck of the bomb-laden SS Talabot, numerous live ordinance, aerial bombs, and torpedoes that had been previously located in front of the newly constructed tourist quays.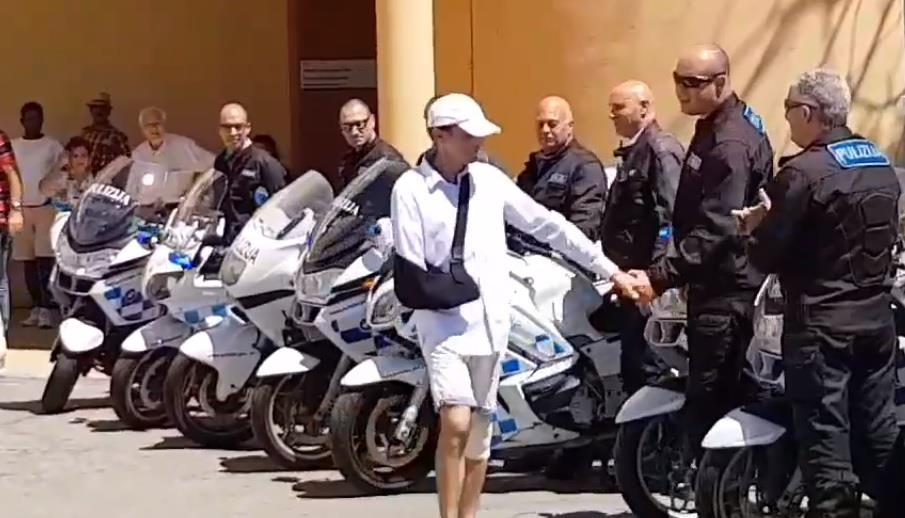 Simon Schembri

Simon Schembri was awarded the Midalja għall-Qadi tar-Repubblika.

Born in 1969 in the United Kingdom, Simon Schembri is a traffic police constable who has shown great dedication to his work. This year, he was involved in a terrible traffic accident while on duty, where he suffered grievous injuries that included the amputation of an arm.

Frank Lawrence Scicluna

Frank Lawrence Scicluna was awarded the Midalja għall-Qadi tar-Repubblika

He was born in Vittoriosa, and migrated to Australia in 1965. He was the principal of the Maltese Language School of Adelaide for 28 years. Scicluna was the co-founder and first president of the Federation of Maltese Language in Australia. He was the president of the Maltese Community of South Australia, as well as of the Australian Federation of Maltese Community Councils.

Louis John Vella

Louis John Vella was awarded the Midalja għall-Qadi tar-Repubblika

Louis John Vella was born and raised in Malta. In 1980 Vella relocated to California. As soon as he arrived in California, he immersed himself in the Maltese Community, and soon became one of its more active leaders, making it his mission to make Maltese communities more connected within themselves and with Malta by doing whatever it takes to bring Malta closer and more accessible to California.

Bernd Schiffarth

Bernd Schiffarth was awarded the Honorary Midalja għall-Qadi tar-Repubblika

Bernd Schiffarth was born in the town of Lindlar, Germany, in 1949. In 1991, together with the Maltese Ambassadors in Germany, Albert Friggieri and Richard Lapira, he founded the "Maltese-German Association/Deutsch-Maltesische Gesellschaft" and was President of that association until 2009.

The full biographies can be read here



Thu, 13 Dec 2018 12:11:00 +0100

'If clientelism continues to win over meritocracy we won't enjoy fullness of democracy' - President
If clientelism continues to triumph over meritocracy, then we will not be enjoying the fullness of our democracy and the safeguarding of our human dignity, President Marie-Louise Coleiro Preca said today.
The President delivered her final speech on the occasion of Republic Day, given that her term ends in 2019.
She said that during this year of the Republic, "we have the opportunity to review and evaluate whether, as a nation, we are sufficiently informed and educated about these rights."
"Fundamental Human Rights represent the foundations, upon which the fullness democracy and peace are built. Indeed, these are the strongest roots of our Republican Constitution. I believe that the Universal Declaration, alongside our Constitution, must always be the cornerstone of the ways in which we live together, and how we treat one another."
"We must insist that the rights of visitors and newcomers to our islands, including migrants, must be upheld in their fullness, without complacency or favouritism. The effective observance of human rights can only take place when democracy is also respected in its totality, because this is what guarantees equitable access to the sources of dignity in society."
Republic Day salute from The Malta Independent on Vimeo.
She said that the various statements by the political leaders and the measures that they have taken over the years, alongside their assurances of further measures, are all an indication that Malta is committed to address social injustices.
"Such injustices are delaying our efforts, towards the fullness of democracy."
"If a single child leaves school without learning basic skills; If one person waits an unacceptable number of years to receive justice; If one worker is subjected to precarious work; If a single person must wait to access dignified housing; If one family is not lifted out of relative or absolute poverty; If one person is a victim of human trafficking; If one woman is being exploited and subjected to violence; If a single woman is discriminated against, in terms of the difference in wages earned by men and women; If the representation of women in Parliament remains minimal; If clientelism continues to triumph over meritocracy; If these injustices persist; then we will not be enjoying the fullness of our democracy and the safeguarding of our human dignity."
"Furthermore, no economy can celebrate human dignity, unless the needs of the most vulnerable are kept at the heart of its operations. For this reason, the vulnerable must receive all the support that they need. An economy that truly upholds human dignity is one which ensures that nobody is pushed to the peripheries of our society."
'The people of Malta deserve to have principled individuals in public life'
Turning to the establishment of the Office of the Commissioner for Standards in Public Life she said that all people in public life should be ethical individuals and a good example to our people, while also promoting the good name of our country. "When this is not the case, a great deal of damage is done to the reputation of the Maltese, and our country. Without pointing a finger at anybody, I believe that we need to examine our conscience and to ensure that everyone who enters public life understands their responsibility, to offer a genuine service to our people and our country."
"The people of Malta deserve to have principled individuals in public life, so that the people and the country will receive genuine services and the highest esteem."
EU Parliament elections
"In today's world, we are witnessing the results of what takes place, when governments abandon the social contract in favour of excessive private accumulation of profit. People not only lose hope in the established political class, but also, they seek reassurance in populist ideologies. It is useless for us to urge our peoples to disregard populism during the European parliamentary elections. Unfortunately, there are millions of people in the Member States of the European Union who are experiencing deprivation and who feel irrelevant, because they have been excluded from socio-economic and cultural life."
"When 'social Europe' is becoming more of an 'economic Europe', it is unacceptable that 1 in 4 Europeans is living in poverty, and is thereby excluded from the services that used to make Europe so proud."
Turning to modern technology, she said she believes it is time to assess the knowledge and the potential of our people in this area. "We must ensure that, in the process of this necessary and important technological expansion, we do not create a new social exclusion, the so-called 'digital knowledge divide'."
"On the other hand, it is essential for us to ensure that our democracy is not manipulated, from behind the scenes, by corporations that transform the intimate details of our lives into a commercial product."
"A manipulated democracy is false and dangerous, because it distinguishes between a superior class with knowledge at its disposal, and a sub-class that carries on a lower quality of life, because it lacks the necessary knowledge."
Turning to constitutional reform, the President welcomed the nomination of representatives, from both of the main parties in Parliament, to form part of a "steering committee" on constitutional reform.
"The process of constitutional reform will be an exercise in participation, for all of the people who wish to be included."
In the area of housing, she said that the publication of the White Paper brought hope to thousands, who are in a precarious position because of rising rental and property prices. "Although work has begun, there is more that needs to be done to address concerns of social housing.
Turning to the environment in our country, she said it remains a cause for concern to our children and young people. "They require us to be far more prudent and ethical, regarding the ways in which we treat our natural environment. Their thoughts about the important need for green spaces, and their concerns about what is happening to the Maltese countryside, remain prominent in the dialogue that we have together."
On the elderly, she encouraged educators to create opportunities for intergenerational encounters, between senior citizens and children and young people. "In this way, the values that our senior citizens have developed, to build a resilient Maltese society, will be passed down to our younger generations."
As for educators, she appealed to the authorities to ensure that educators receive the best resources, and have access to high quality systems of support in the best interests of our children and young people.
Gender Pay Gap and Gender-based Equality
She said that statistics from the Structure of Earnings Survey, published by the National Statistics Office, show the drastic difference in pay between men and women. "It is of serious concern that the more education a woman acquires, the greater the gender pay gap and the disparity in income."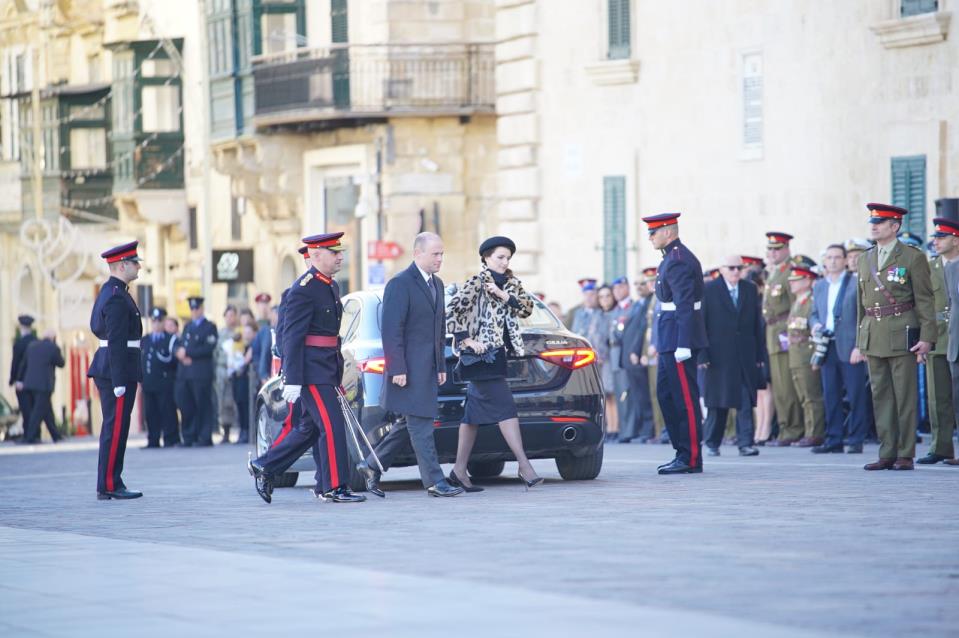 "As we all believe that increased education brings greater access to opportunity, it is worrying to note that more education could mean more discrimination. Our country must strive harder, in the field of gender equality."
She concluded, by saying that democracy is the best means that we have, in today's world, to celebrate human dignity and to safeguard the observance of human rights and peace, in our communities and in Maltese society.
"This is my last speech as President of Malta, on this beloved feast of Republic Day. I must admit that I have felt privileged and honoured to have this opportunity to be able to share with you, as one of you, these reflections about the things I truly believe in. This has been a privilege, bestowed upon me thanks to the representatives of the people through Parliament, where for the first time the nomination of President of Malta was reached through unanimous agreement, both by Government and Opposition, notwithstanding my coming from the Government benches."
"I hope this consensus will continue for my successors, because the President of our nation should have no party but should serve the people, with loyalty and with a conscience that goes beyond any desire for popularity. Therefore, before I conclude, I wish to express my gratitude to the Government and Opposition who received my criticisms with respect, and accepted a number of the proposed suggestions."
Photos and video by Luke Zerafa


Thu, 13 Dec 2018 10:44:00 +0100

Malta Independent.com.mt
Laatste 50 Nieuws Berichten en/of updates van database vrijdag
- Worldunity.me
Asthar Comand, Vrillon, Jezus, Ufo's & Aliens….New Age dekmantel voor pedofilie en meer zware misdaad.
-Sat, 15 Dec 2018 04:06:11 +0000
- Dotcomnieuws.com
QAnon / Bomb Threats / Clinton Foundation / General Flynn / Worldwide Wave Anomalies
-Fri, 14 Dec 2018 22:41:17 +0000
- Dotcomnieuws.com
The Gary Null Show – 12.14.18
-Fri, 14 Dec 2018 22:33:05 +0000
- Dotcomnieuws.com
Judith A. Reisman, PhD. & Désirée Röver at the Minority Of One Report
-Fri, 14 Dec 2018 22:30:17 +0000
- Twitrss.me Government of Malta
Thing is, these people aren't being led or coerced into this. They're being given the green light to exhibit their true nature.
-Fri, 14 Dec 2018 22:21:18 +0000
- Twitrss.me Government of Malta
Height doesn't matter, You could be the size of thumbellina but since you dare question something Is frightening them. Truth is something they are allergic to.
-Fri, 14 Dec 2018 22:20:34 +0000
- Twitrss.me Government of Malta
@MaltaGov launches Local Integration Charter https://twitter.com/newsbook_com_mt/status/1073655644832628736?s=21 …
-Fri, 14 Dec 2018 22:16:39 +0000
- Twitrss.me Government of Malta
Wow. Just disgusting. Threats such as these are actually illegal, problem is even if you report it, nobody takes it seriously in Malta. Wonder if they are targeting you on their own or somebody told them to start targeting you only because you have t
-Fri, 14 Dec 2018 22:14:48 +0000
- Twitrss.me Government of Malta
Except he's a security guard with GoM and with a penchant for standing with Joseph at the most curious of timespic.twitter.com/7kvJkDphO3
-Fri, 14 Dec 2018 22:12:40 +0000
- Twitrss.me Government of Malta
All perfectly normal then. Here's another specimen:pic.twitter.com/6RAPcICkKn
-Fri, 14 Dec 2018 22:11:26 +0000
- Twitrss.me Government of Malta
We're heading to Phase 3. "Private citizens" (typically centrally co-ordinated) acting as enforcers.
-Fri, 14 Dec 2018 22:02:26 +0000
- Dotcomnieuws.com
French military generals have written an open letter to Macron accusing him of committing "treason" by signing UN migration pact
-Fri, 14 Dec 2018 21:52:27 +0000
- Twitrss.me Government of Malta
In which two village brats take their cue from @PL_Malta and @MaltaGov to threaten to put me "6 feet under just like Daphne" @The_Shift_News @occupyjusticema @roadwisdom @JustinBBarthetpic.twitter.com/WGpdYbZ3pR
-Fri, 14 Dec 2018 21:47:22 +0000
- Veterans_Today
Coastal Bend State Veterans Cemetery Hosts Wreaths Across America Ceremony
-Fri, 14 Dec 2018 21:42:40 +0000
- NRC.nl
Handbalsters verliezen halve finale van Frankrijk: weer geen finale
-Fri, 14 Dec 2018 22:39:24 +0100
- NRC.nl
Mogelijk toch zelfstandige groei voor Lelystad Airport
-Fri, 14 Dec 2018 22:38:16 +0100
- Veterans_Today
US Senate Nails MSB for Khashoggi Murder in Unanimous Vote
-Fri, 14 Dec 2018 21:32:27 +0000
- Waldnet
Gezellige drukke tiende Kerstfair in Dokkum
-Fri, 14 Dec 2018 22:30:48 +0100
- Twitrss.me Government of Malta
Well if you decide to enter the EU start by changing the name of your service or you'll be as a big joke as Verge (especially in France)
-Fri, 14 Dec 2018 21:24:57 +0000
- Veterans_Today
Largest Ever Trial Reveals: Vitamin D Supplements Do Not Prevent Cancer
-Fri, 14 Dec 2018 21:21:49 +0000
- Daily Express
Nigel Farage condemns EU Brexit 'ARROGANCE' - and predicts IMMINENT second referendum
-Fri, 14 Dec 2018 21:15:00 +0000
- NRC.nl
Alles wat de klimaattop van Parijs succesvol maakte, ontbrak in Katowice
-Fri, 14 Dec 2018 22:14:25 +0100
- Volkskrant
Pro-Russische rebellen in Oekraïne brengen troepen in staat van paraatheid
-Fri, 14 Dec 2018 21:11:00 GMT
- Veterans_Today
The Wanta Files: How China Went High Speed Rail, Which Thieves Deny Americans
-Fri, 14 Dec 2018 21:06:33 +0000
- Veterans_Today
Winning Verdict in Opioid Suit Could Bankrupt Rx Companies
-Fri, 14 Dec 2018 21:05:17 +0000
- Google News World
Inzamelingsactie voor doodgestoken Sarah (21): 'We zijn enorm aangeslagen' - RTL Nieuws
-Fri, 14 Dec 2018 21:00:55 GMT
- Zerohedge.com
Meltdown: Traders Tremble As Trump, Trade & Talc Trigger Turmoil
-Fri, 14 Dec 2018 16:00:34 -0500
- De Tijd.be
Overname Weghsteen door Merit Capital definitief
-Fri, 14 Dec 2018 20:58:41 GMT
- ZDnet Latest News
Bing recommends piracy tutorial when searching for Office 2019
-Fri, 14 Dec 2018 20:58:00 +0000
- Twitrss.me Government of Malta
Have a word with @OwenBonnici please @Clint_Camilleri this sort of thing makes the @MaltaGov look like the government of a #BananaRepublic doesn't it @JosephMuscat_JM ? #Malta #BirdTrapping https://twitter.com/birdlife_malta/status/1072926547718348
-Fri, 14 Dec 2018 20:56:08 +0000
- Google News World
Sparta grijpt koppositie; topper wordt gestaakt; crisis bij NEC - Voetbalzone.nl
-Fri, 14 Dec 2018 20:56:00 GMT
- De Tijd.be
De Wever legt vervroegde verkiezingen op tafel
-Fri, 14 Dec 2018 20:55:27 GMT
- Google News World
ADO vernedert Willem II op eigen veld | Voetbal - Telegraaf.nl
-Fri, 14 Dec 2018 20:55:02 GMT
- Nieuwsdump.nl
Islamitische opleiding raakt mogelijk accreditatie kwijt door uitspraken rector
-Fri, 14 Dec 2018 21:53:00 CET
- Nieuwsdump.nl
Vechtpartij na mogelijk verkeersconflict in Hengelo, politie zoekt getuigen
-Fri, 14 Dec 2018 21:51:00 CET
- Nieuwsdump.nl
Bert Brussen – Brits verbod op 'seksistische' reclames toont aan: vrijheid inmiddels inhoudsloze illusie
-Fri, 14 Dec 2018 21:51:00 CET
- Nieuwsdump.nl
'Half gek, half briljant' Jurassic Park-scenario dat afgewezen werd, blijkt pionierswerk
-Fri, 14 Dec 2018 21:50:00 CET
- Nieuwsdump.nl
Originele uitgave van Marcel Proust onder de hamer voor recordbedrag
-Fri, 14 Dec 2018 21:50:00 CET
- Zerohedge.com
"Inclusive" Hillary Tells Americans: "If You Don't Support Democrats, Go Somewhere Else"
-Fri, 14 Dec 2018 15:50:00 -0500
- Fok.nl
NAVO-plan vastgesteld: meer F-35's en vuurkracht voor Defensie
-Fri, 14 Dec 2018 21:49:38 +0100
- Nieuwsdump.nl
Chinees hotel realiseert "onmogelij­ke constructies" van Escher
-Fri, 14 Dec 2018 21:49:00 CET
- Nieuwsdump.nl
Kosovo richt leger op, spanning met Servië loopt op
-Fri, 14 Dec 2018 21:49:00 CET
- Nieuwsdump.nl
NAVO-plan vastgesteld: meer F-35's en vuurkracht voor Defensie
-Fri, 14 Dec 2018 21:49:00 CET
- Nieuwsdump.nl
Muurschildering vertelt de geschiedenis van Zuilen
-Fri, 14 Dec 2018 21:48:00 CET
- Nieuwsdump.nl
Bioscoop Meppel draait proef voor officiële opening februari
-Fri, 14 Dec 2018 21:48:00 CET
- Nieuwsdump.nl
Van Beek: ''Ik wil eerst slagen bij Feyenoord en niet te snel afscheid nemen''
-Fri, 14 Dec 2018 21:47:00 CET
- NRC.nl
Geplaagde leiders zoeken troost op top
-Fri, 14 Dec 2018 21:46:18 +0100
- Nieuwsdump.nl
Chili wordt gastland van volgende klimaattop
-Fri, 14 Dec 2018 21:46:00 CET
- Nieuwsdump.nl
Cultuurchristendom schiet tekort, maar kan wel benut worden
-Fri, 14 Dec 2018 21:46:00 CET
- Nieuwsdump.nl
Zeeland duizenden bomen armer
-Fri, 14 Dec 2018 21:46:00 CET