29 items in de category Malta_Independent.com.mt_ in donderdag De links 1 t/m 29.

Malta: Malta Independent.com.mt : (Laatste update: donderdag 17 september 2020 17:54:41)
Caruana Galizia public inquiry turned into a 'political exercise' – Glenn Bedingfield


The public inquiry into the death of Daphne Caruana Galizia has allowed itself to be turned into a 'political exercise', Labour MP and Government whip Glenn Bedingfield said.

In a Facebook post, Bedingfield said that the public inquiry into whether the journalist's murder could have been prevented by the state has very precise terms of reference.

"However, when one sees the way the inquiry has been conducted, it is evident that the process has been marred by ulterior intentions which go against the truth of the facts tied to the assassination itself", Bedingfield said.

"The intention of the inquiry is for facts to be established, not to entertain conjectures which are lengthening the process and leading to calls for extensions", Bedingfield added.

His statement comes after the inquiry board, made up of Judge Emeritus Michael Mallia, Chief Justice Emeritus Joseph Said Pullicino and Madam Justice Abigail Lofaro, asked for an extension to its September deadline.

The inquiry initially had nine months to reach its conclusions, although the Covid-19 pandemic stopped proceedings in their track for a number of weeks.

Prime Minister Robert Abela ultimately granted a one-time extension till mid-December, however the fact that this extension is just a one-off has riled the Caruana Galizia family, who say that in making such a proviso, the Prime Minister is ensuring the full justice is not served.

Bedingfield however said that had the inquiry board stuck to their terms of reference then they would not need any more extensions, "unless their requests are not tied to other reasons."

Here, Bedingfield made the observation that Judge Emeritus Mallia is being paid €4,500 per month while Chief Justice Emeritus Joseph Said Pullicino is being paid €4,000 per month. Being a currently sitting Judge, Madam Justice Lofaro has her own salary, Bedingfield noted.

"What the scope of the delay is, I don't know – but there is some scope to it for sure", Bedingfield concluded.

Bedingfield himself testified before the public inquiry last February, where he said that Daphne Caruana Galizia "attacked people, humiliated them, and called them anything under the sun" and that Daphne and the people who support her believe that they have the right to speak while others don't.


Thu, 17 Sep 2020 16:56:00 +0100

University lectures to be streamed online, discussions on graduation ongoing - KSU
University of Malta lectures will be streamed online and where possible a physical option on campus will be provided, according to a statement published by the University Student's Council, Kunsill Studenti Universitarji (KSU).
With school starting in less than two weeks, many individuals and lecturers are concerned about the new protocols for the reopening of schools.
Wednesday marked the highest number of coronavirus cases, where in 24 hours Health Authorities found 106 cases. This resulted in two teachers unions, the Malta Union for Teachers (MUT) and the Union for Professional Educators (UPE) both publishing statements that the opening of schools should be postponed.
While lectures at the University of Malta aren't scheduled to start for another month, a senate meeting was held on Thursday to discuss the upcoming academic year.
In a statement issued following that meeting, KSU said that guidelines by the Health Authorities regarding University will be published.
They said that it has been decided that lectures will be streamed online and where possible a physical option on campus will be made available. Lectures with a large number of students will be taking place entirely online. Whilst the number has not yet been defined, KSU believe that the number will be around 70 students.
Lectures with smaller number of students will be taking place online with the possibility of joining physically. Following the issuing of the guidelines, Faculties/Institutes/ Centres/Schools will be analysing which study units can occur physically, depending on available spaces which are large enough to cater for the number of students allowed in a classroom according to a social distancing guidelines.
KSU also noted that all methods of assessment for the upcoming semester must be decided upon and presented to Senate for approval by the 22 October.
KSU presented its Pandemic Response Policy to Senate with an appeal to all academics to strive to improve online learning and online assessments to ensure that communication with students is timely, effective and constant.
Discussions on graduation ceremonies ongoing
On the note of graduations, discussions are currently taking place on feasible alternative options that retain the dignity of such a momentous occasion, whilst also safeguarding the health of graduates and their families.

It was decided that by 20 November all students will be considered as graduates, with the possibility that ceremonies take place at a later date. This will allow students to present their certificates for funding purposes or future academic endeavours, where applicable.

More information on graduation ceremonies will be published later on, KSU said.

"KSU urges Health Authorities to release guidelines for tertiary education institutions without further delay to ensure that students have enough time to prepare for the upcoming academic year, especially those who have to make arrangements for housing."

KSU had also presented a letter to the Superintendent of Public Health and Health Minister with questions relating to the upcoming year on the 10 August, and yet still have no replies. "It is worrying and disappointing that no attempt to reassure students was made and that no students were involved in the preparation of the guidelines."


Thu, 17 Sep 2020 16:22:00 +0100

Transport Malta allowing Gozo fast ferry bidders to develop their own routes


Transport Malta (TM) is allowing Fast Ferry bidders to develop their own routes across the destinations that the project entails.

Today, the Ministry for Transport, Infrastructure and Capital Projects and the Ministry for Gozo released a statement in which they acknowledged the responses submitted by TM before the Public Contracts Review Board (PCRB), with regard to the call for ferry services (that can support fast operating speeds) issued by the same authority during the month of August.

"As communicated several times, following research by respected experts, TM made the decision to issue a call where bidders are invited to submit and develop a schedule with times and routes that must include 6 mandatory places," the statement read.

The ultimate goal is for Malta to have a quick and clean ferry service connecting these places, which include Gozo, Marsaxlokk, Ta' Xbiex, St Paul's Bay, St Julian's, and Valletta.

This was the third time that the government tried to award the contract. The previous two calls were cancelled after lengthy court proceedings, with the latest cancellation happening in September last year, after an Appeals Court ruled in favour of Virtu Ferries – the losing bidder in the tender – who said that the deal was "vitiated".

However, last Monday, TM said that a Request for Proposals (RfP) for the provision of a fast ferry service between Malta and Gozo respects all European laws.

"Not only has the government not discarded the Fast Ferry pledge as proposed; to the contrary, a call is currently open for more extensive service," said the Transport Ministry and the Gozo Ministry in their statement today.

To solidify this point, they explained that TM is allowing bidders the freedom to develop these routes themselves, and these can therefore be direct between these different destinations or else including stops. The schedules and routes can also include both formats; direct and indirect.

"Now that the authority has submitted the cost-benefit analysis carried out by the Economists E-Cubed Consultants, which researches and considers the viability of such a service, it is clear that Government was wise to decide to first give the market an opportunity for operators to submit their bids via commercial process instead of integrating it with the public service obligations, which would have only meant that the government would have had to fork out the subsidies from the public's funds."

The same study by E-Cubed Consultants shows that the number of people willing to use the ferry as a clean and alternative mode of transport to the private vehicle augurs well for the market to put forward bids in the interest of the Maltese and Gozitan public.

"The government also notes with satisfaction that through the submissions made by TM, the authority is insisting that the call should continue and not be stopped so that the people can begin benefitting from these new connections," they concluded.

The fast-ferry was first mooted in 2016 by then-Gozo Minister Anton Refalo, who had declared that a PSO would be issued for a fast ferry service between Gozo and the centre of Malta.

The provision of a fast-ferry service between Malta and Gozo was in both the Labour Party's 2013 and 2017 electoral manifestos.

However, since, travel between Malta and Gozo has only been reinforced by a fourth conventional ferry.


Thu, 17 Sep 2020 15:56:00 +0100

WATCH: This is how Malta's school vans will be fumigated every week
Coop Services have released a video showing how Malta's school vans will be fumigated every week when the scholastic year gets going, while also giving details about daily, trip-by-trip procedures.
With the opening of schools inching ever closer, Coop Services – which has a fleet of over 600 minibuses servicing hundreds of routes across the island – said that they have embarked on the comprehensive fumigation of its fleet.
Furthermore, these same minibuses will be fumigated every week, with Coop releasing a 30 second video showing how this will be done.
"Moreover, in order to ensure strict adherence once school transport starts, minibus drivers have been briefed in detail on the COVID-19 protocols issued by the Health Authorities", Coop said.
There are a number of restrictions and measures in place when it comes to school transport, with vans expected to run at half-capacity and passengers and the driver expected to wear masks or visors.
"Whilst Coop Services remains committed to making the safety of every child a priority, the collaboration of all parents is being sought", they said.
---
Read more: Covid-19 school guidelines published: 'On-line or hybrid method will always be a fallback'
---
As per the aforementioned Covid-19 protocols, the vans will be disinfected after every trip, Coop said.

This includes the disinfection of seats and seat belts after every voyage. The drivers meanwhile will be wearing masks and will keep the minibuses well ventilated, keeping windows open when possible, and avoiding air recirculation.

"Prioritising the safety of every child, Coop Services requests your collaboration in ensuring that each child is wearing a mask or visor before entering the school van and that each child sits in the same seat every time the school transport is used", Coop said.

"You are kindly asked to take the temperature of your child in the morning before sending them to school. If there are signs of illness, please refrain from sending your child to school."


Thu, 17 Sep 2020 15:36:00 +0100

United Nations congratulate Malta for work being carried out in the housing sector
The Maltese Government, in particular the Ministry of Social Accommodation was congratulated for the important work it has carried out in regards to having a proper housing system in Malta.
The Secretary to the Committee on Urban Development, Housing and Land Management at the United Nations Economic Commission for Europe, Gulnara Roll, praised the Maltese Government for drawing up a National Housing System for the first time.
Roll was speaking during a conference organised by the Ministry for Social Accommodation and the United Nations. The conference, which was entitled 'Towards Sustainable Homes and the Neighbourhoods in the Mediterranean Region: Reflecting on Malta's potential', was attended by more than 70 local and international stakeholders.
"I congratulate the Maltese Government, in particular the Ministry of Social Accommodation, for the organisation of this conference and for the important work it is carrying out to have a housing system for Malta."
Roll stressed that the coronavirus pandemic has highlighted the importance of having a safe home, and that it is crucial for Malta to have a housing system which ensures social unity especially for the vulnerable groups.
"We look forward for the ongoing collaboration with the Maltese Government in the implementation of this national housing policy in Malta."
Social Accommodation Minister Roderick Galdes highlighted that the collaborative workshop is a unique opportunity for Malta. "The timing is perfect as we find ourselves at the initial stages of developing a national housing system for the first time. At this point, we may have more questions than answers as we carefully move from the design and research phase towards implementation."
He reiterated that this housing system for Malta will put homes, people and their experiences at the centre.
"It is only by taking this perspective that housing will be truly at the centre of our society. Our approach will bring together culture, law, rights, economy and the environment. It is important to understand the different experiences of families so that the system we are designing really addresses the needs of the day."
Julie Lawson, the lead author of the Housing 2030 initiative claimed that through a national housing system, Malta will ensure that each citizen has a suitable home. "A National Housing System involves many different stakeholders concerned with the use of land, finance, building materials and real estate. Good housing policies improve access to affordable, decent quality housing for all. Without this system, the housing sector in Malta may discriminate, exclude and marginalise certain groups within their communities and increase inequality across society."

The Deputy Secretary for Transport and Urban Development of the Union for the Mediterranean, Ayse Asya and the Chair of the Committee on Urban Development, Housing and Land Management of the United Nations Economic Commission for Europe, Doris Andoni also took part in the conference.


Thu, 17 Sep 2020 15:11:00 +0100

Motorcyclist dies in Gozo after collision with double decker bus


A motorcyclist has died after a collision between him and a double decker bus in Nadur, Gozo on Thursday afternoon.

The Libyan man was 28 years old and lived in Zebbug, Gozo.

Police said that they were informed of a traffic collision at around 12:45 in Triq ir-Rabat in Nadur, Gozo.

Investigations by district police found that the collision was between a Kentoya motorcycle being ridden by the 28-year-old man, and a King Long double decker bus being driven by a 61-year-old from Santa Lucija.

The 28-year-old was rushed to Gozo General Hospital by ambulance, but succumbed to his injuries soon afterwards.

Duty Magistrate Bridgette Sultana is leading a magisterial inquiry while Gozo district police are carrying out their own investigations.


Thu, 17 Sep 2020 14:49:00 +0100

Man grievously injured while working at residence


A 38-year-old man was grievously injured while he was carrying out works at a residence in Mellieha.

Police said that they were informed of an incident at 11:15 on Thursday morning at a residence in Triq it-Tramuntana in Mellieha.

District police were dispatched, and preliminary investigations showed that the 38-year-old, who is of a foreign nationality and lives in St. Paul's Bay, suffered grievous injuries while he was carrying out some works at the residence.

The nature of how he sustained the injuries was not specified.

Police said that the man was taken to Mater Dei Hospital via ambulance, where he was certified as suffering from grievous injuries.

Police investigations are ongoing.


Thu, 17 Sep 2020 13:58:00 +0100

PN launches national campaign to beat obesity and push for sports to be taken more seriously


The Nationalist Party has launched a campaign to beat obesity and to introduce initiatives to entice more people into taking up sports and physical activities in their life.

Speaking during an online press conference, the Opposition spokesperson on sport, youth and the fight against obesity Robert Cutajar explained that the campaign, '#sportsforlife – let's beat obesity together' has 20 sports federations and 40 local athletes who have joined the campaign.

"The athletes, all coming from different spheres will be part of this campaign to highlight how a sport is a way of life and how one can balance sports, work and studies."

During the conference a number of clips showed different athletes and them practicing their sport.

One recognisable figure, Neil Agius, who recently swam from Sicily to Malta, explained that exercising is all about "motivation, dedication and time management." "Sports means a lot to me", he said.

Nicky Farrugia, another swimmer expressed that one can enjoy training and find a balance between life, work and sports.

"We believe that sports is one of the main ingredients to fight obesity and that we should believe in the values which sports gives back; sport helps you mature and respect one another, all strong points which help us invest in a stronger society," Cutajar said.

Cutajar also pointed out that this year's Independence Day celebrations will be different due to the current pandemic situation. He explained that the Independence Day singing competitions will be held live on Net Television on Friday and Saturday.

"This year each singer will have a card each, which will represent the 40 athletes who are taking part in this campaign, and each singer will have an athlete or sports representative who will also have a moment to share a message about the importance of sports."

Paula Briffa and Robbie Ebejer, who form part of Tim Sport Partit Nazzjonalista, both explained that throughout the month there will be a number of activities and sports events taking place.


Thu, 17 Sep 2020 13:08:00 +0100

35 new cases of Covid-19 found overnight; 51 of yesterday's cases traced to St Joseph's Home
35 new cases of Covid-19 were found overnight, health authorities said on Thursday.
25 recoveries were also registered in the last 24 hours, meaning that the number of active cases has increased by 10 to 601.
Contact tracing of yesterday's record number of 106 cases traced a staggering 51 of them to the St. Joseph's Home for the Elderly in Fgura, which already had a significant cluster of the virus developing in the past week.
A further 20 were found to be family members of previously known cases, while another three were traced to another home for the elderly: Casa Antonia. Another two were direct contacts of positive cases and another two over and above that were imported.
Today's cases, meanwhile, are still being investigated.
A total of 2,536 swab tests were carried out in the last 24 hours, taking the total number of swab tests up to 223,698 so far.
Malta has had a total of 2,595 cases since the pandemic first arrived on the island. 1,978 of those have recovered while 16 have died.

Thu, 17 Sep 2020 12:36:00 +0100

Action 'necessary to reduce spread of COVID-19 before schools open' - MAPSSS


In view of a record number of COVID-19 cases registered overnight, and clear evidence that the spread of COVID is not slowing down, the Malta Association of Parents of State School Students believes that the necessary actions need to be taken to control the spread of COVID-19. It is evident that the measures taken so far have not been effective enough.

In a statement, MAPSSS questioned if it would be premature to open schools on September 30th and asks whether the protocols issued on 2nd September are considered sufficiently effective to safeguard the wellbeing of students and staff in schools and whether the implementation of these protocols would be finalised by the end of the month.

Should the current situation lead to schools using Scenario 1 on 30th September, i.e. online learning, each school should make it known to the parents which single online platform has been chosen for online schooling.

A system that requires working parents to stay at home to assist their children in homeschooling, needs to be discussed with the Employer Associations to ensure that parents are given the opportunity to telework (where possible) and that no disciplinary action is taken against the parents in circumstances where teleworking is not possible.

It is also imperative that MEDE ensures effective outreach for students that "disappeared off the radar" during the school closure last March. It should be ensured that disadvantaged and marginalised children, including children in low-income families and migrant children in open centres, have access to the necessary hardware and software, as well as internet access, to benefit from proper schooling.

In view of the negative impact of the pandemic on children's mental health, as suggested in several academic research papers, a mental healthcare support unit should be organised specifically to support the students, including through home visits by trained personnel for checks, assessment and eventually intervention.

MAPSSS also asks MEDE to ensure that children of frontline personnel and educators are being provided with adequate daycare and appropriate organisation to allow them to follow their curricula during their parents' or their legal guardians working hours.

MAPSSS reiterates that in view of the current uncertainties brought about by COVID-19, MEDE should make it clear that the mandatory introduction of new uniforms in KG1, YR1, YR7 and YR9 is being postponed. Besides the fact that some parents are experiencing financial pressures related to the pandemic, we should not have people queuing for uniforms in social distancing time, when we don't know when and if schools will open.


Thu, 17 Sep 2020 12:27:00 +0100

Oldest building in Fgura facing demolition after descheduling, FAA calls for site's protection


Fgura's oldest building, a vernacular farmhouse, is facing demolition only a year and a half after it was suddenly descheduled, with Flimkien Ghal-Ambjent Ahjar (FAA) saying that the building should be protected and turned into a civic centre with a natural park instead.

The farmhouse, situated on Fgura's main road right opposite the local council building, was granted Grade 3 protection in 1995 as parts of it are known to date back over 200 years and because the Fgura local council had expressed its wish to restore the building, reconstruct its original niche and transform the farm into a much-needed public cultural centre and green open space.

"The significance of this site lies in the fact that these the last fields and trees to exist in Fgura's urban core, while the old farmhouse stood at the crossroads of the original medieval villages that made up Fgura, facing the 1790 church destroyed in 1955", the FAA said.

"Notarial Archive documents dating to 1505 reveal that the name of Fgura derives from the 'Ficura' family that owned fields and farmhouses in this area, of which this is the only survivor. Visible in old maps and photos of the area, the original farmhouse complex was also the site of the Victory Kitchen and wartime shelter, all of which makes this building a symbol of the very identity of Fgura", they continued.

The old farmhouse itself incorporated a religious niche, for which the nearby alley is named, and several vernacular features, including 'xorok', kileb, animal stalls and mangers, a 'barumbara' as well as carved decorations.

For these reasons MEPA refused attempts to have the building descheduled in 2009, 2011 and 2015.

"Yet without warning, in February 2019, the Environment Planning Review Tribunal granted the descheduling requested by Robert Musumeci, appearing for Landscape Properties. These claimed, inter alia, that the farmhouse is not intact but build during different periods (as are most old buildings in Malta) and that it is out of context, having been surrounded by modern buildings", the FAA said.

The EPRT will today decide on an application to demolish the farmhouse, as it decides on an appeal filed by the Fgura local council against the project.

"It is for this very reason that it is more important than ever not to destroy this building and its surrounding farmland. Instead, FAA maintains, the farmhouse should be given stronger scheduling than ever, and purchased for Fgura residents. Fgura is an urban centre with one of the highest rates of air pollution in Malta, completely lacking in public green areas, which Covid-19 has shown to be essential to our health."

"The fields of this farmhouse are the perfect site for a beautiful park while the farmhouse itself could be converted to a civic centre, as was done with the Old Hospital at Mqabba and Razzett tal-Markiż at Mosta."

"Flimkien ghal Ambjent Ahjar urges Malta's environment authorities to really show their commitment to Malta's quality of life by refusing the application to destroy this last vestige of old Fgura and to give Fgura residents a health-giving urban green area of their own".


Thu, 17 Sep 2020 12:01:00 +0100

€4,340 worth of COVID-19 vouchers to be donated to Women's Shelters


Back in June when the government announced the €100 vouchers scheme, many began thinking about how or where they would spend their vouchers. Others, however, thought of how to use their vouchers a little differently.

Rebekah Cilia, a former journalist with The Malta Independent, decided that she would donate her vouchers to a women's shelter. She posted her initiative on Facebook, seeing whether others would wish to join her. First expecting only a couple of friends and family, Rebekah's post was shared over 55 times and in the first 'cohort' collected €2,500 worth of vouchers.

She has now collected €4,340 worth of vouchers to be donated to women's shelters.

This newsroom got in touch with Rebekah to see what inspired her to start this initiative in the first place.

"During my time working as a journalist, I had interviewed a young lady who lived in a women's shelter. It was an interview I will never forget. I have covered many heart-breaking stories, but this one really stood out." She said that whilst after spending the first few months of 2020 in a quasi-lockdown, the thought of a fancy hotel break would be nice, but she knew that there are others out there who need the €100 more than she did.

"I decided I would donate my €100 to the same women's shelter. Thinking maybe my family and friends would be interested in doing the same; I decided to put up a Facebook post with my idea." After her first post, Rebekah did not expect the response she received, where her post was shared over 55 times and was featured on two news portals.

"People I had never met contacted me asking how they too could donate their vouchers. The donations kept on coming in!"

In total, Rebekah has received €4,340 worth of vouchers. In her first 'cohort' she collected €2,500 worth of vouchers which were donated to two women's shelters. She explained that following another Facebook updated which was picked up by a local radio station and followed two radio interviews, she managed to collect another €1,340 worth of vouchers.

"It took much driving around Malta, getting very lost trying to find street names and lots of coordination, but it was all worth it when I took the envelopes to the women's shelters and told them the amount inside. The feeling of giving is always worth it…. And as a bonus, I got to know Malta's streets better!"

When asked whether she received any feedback from the women living in the shelters, Rebekah explained that the women were extremely grateful. "I donated the vouchers to three women's shelters. The people receiving the vouchers all said they would be used in different ways. One shelter said that the blue ones will be used to buy powdered milk for the babies living there, others said they would buy uniforms for school."

She said that she only had one condition for the use of the vouchers, that being that the women truly enjoyed them. "When I dropped off the vouchers at one shelter, the manager had told me all the women were already excitedly discussing what take-away they would be getting. Two of the shelters will be organising nights in and ordering food since most of the residents are being extra careful and not going out much, due to COVID-19." She said that she will be taking the last batch of vouchers this week to the third shelter.

She thanked all those who have donated their vouchers and who have shared her Facebook post and encouraged others to donate. "It is wholly true that the Maltese are a charitable nation. I never would have thought that I, alone, could collect so many vouchers. We are all going through a difficult time at the moment, but for others, the pandemic is just another layer over an even more difficult life. By looking out for each other, we can beat this pandemic together."


Thu, 17 Sep 2020 11:20:00 +0100

Brief period of heightened measures required to control Covid-19 spike – Malta Chamber


A brief period of heightened restrictions is urgently required to contain the recent spike in Covid-19 cases, the Malta Chamber said on Thursday.

This is in the interest of the physical and economic health of the country, the Chamber said, adding that this issue should be discussed at an urgent meeting of the Malta Councile for Economic and Social Development (MCESD).

"It is evident that renewed discipline is required amongst certain cohorts of the population as other countries have also experienced. For this reason, the Chamber is calling for a concerted approach made by all enforcement agencies in order to step up appropriate enforcement measures."

The authorities need to step up their awareness campaigns for vigilance about the seriousness of the pandemic that is currently engulfing all aspects of life the world over, it said. "Besides, it must also be drilled into the public consciousness, that while we must adapt, life is not back to normality as we knew it pre-pandemic."

The MCESD should urgently discuss the "dire" situation and the need to make this a national priority for everyone, it added.

It proposed a brief period of heightened restrictions to be introduced immediately, in order to control the current spike in cases.

The proposed restrictions may include amongst others, the reduction of size of public gatherings, wearing of masks at all times outside of homes and active encouragement of remote working wherever possible. Besides, authorities may also consider temporary closure of certain leisure establishments and communal places.

"With regards to education, as matters stand, it is not unrealistic that parents are growing skeptical about sending their children to school. We must work in the short term to make sure that the infection rate is brought once again under control. This would also provide schools with much needed additional time to better prepare themselves for their students' intake. The re-opening of schools, which remains in the best interest of our children, can only happen under heightened measures and disciplined enforcement. Once a semblance of control is achieved, the heightened restriction period can start being released slowly."

Targeted measures and urgent support are also overdue to care-homes for the elderly, as they too are facing extremely trying times, it said. "The country must help control the spread of the virus as a national priority, as the country's health services risk becoming inundated very soon."

The Chamber said there is a very real threat out there which must be taken seriously. "This is threatening the breakdown of society. We must work together in order to safeguard all that we have achieved together."


Thu, 17 Sep 2020 11:08:00 +0100

European Council President Charles Michel pays respects to Daphne Caruana Galizia
The President of the European Council Charles Michel on Thursday paid his respects to Daphne Caruana Galizia at the site of her assassination in Bidnija.
At Bidnijja, Michel spoke to Daphne Caruana Galizia's late husband Peter and her son Matthew about the symbol which Caruana Galizia has become since her assassination in late 2017.
President Charles Michel then gave a statement to the press where he vocalised the importance of freedom of speech and how a threat to freedom of speech is a threat to democracy in general.
"What happened here is shameful for Europe and an attack on the free press. I came here to pay my respects to Daphne's memory and her family," Michel told the press.
Photos: Giuseppe Attard

Thu, 17 Sep 2020 11:02:00 +0100

Trustees, banking sectors 'fully compliant with international requirements - MFSA
The Malta Financial Services Authority (MFSA) said that both the licensed Trust and Company Service Provider (TCSP) and the banking sectors are "fully compliant with international requirements", in as far as the maintenance and accuracy of Ultimate Beneficial Owner (UBO) information in Malta, noting that the Trusts Ultimate Beneficial Ownership Register (TUBOR) has been transformative in this area.
Speaking to the Malta Business Weekly, the MFSA noted that TUBOR has been transformative in the TCSP sector.
TUBOR is a digital register which centralises information for all trusts in Malta, including information about their UBOs and their connections, both foreign and local. This information is kept in a register so that authorities can access it in case they need to investigate suspected crimes or perform other responsibilities.
The system was implemented as part of wide-reaching reforms being conducted by the MFSA. Indeed, the number of trusts reported since the implementation of TUBOR has increased over tenfold – going up from 295 and 336 in 2018 and 2019 respectively, to 3,558 this year. The information on the register is up to date, and the MFSA, in fact, has already fined two firms for TUBOR compliance failings.
The Organisation for Economic Co-operation and Development (OECD)'s tax assessment was in Malta in early 2019, with the MFSA participating, along with the Office of the Commissioner for Revenue (OCR), the Financial Intelligence Analysis Unit (FIAU) and the Malta Business Registry (MBR) via questionnaires, follow-up information requests, and meetings.
The scope of that assessment was tax transparency, which is, in essence, on whether international requests about the beneficial ownership of assets and trusts within Malta's jurisdiction are complied with. These requirements are in the Cooperation Regulations, which, in turn, are overseen by the OCR and are relevant to the TCSP and banking sector in so far as maintenance of beneficial ownership information.
"The MFSA is confident that its licence holders in both sectors are currently fully compliant with international requirements," the MFSA said.
"The most effective tool for ensuring that within the trusts and trustees sector there is 100% beneficial ownership transparency is TUBOR and this was implemented and was fully populated with beneficial ownership information on all trusts after the review period of this OECD Report, which was March 2019."
TUBOR is not intended to be publicly accessible (in accordance with the 5th Anti-Money Laundering Directive). However, the information in it is shared with other Authorities to support in the discharge of their duties and responsibilities. TUBOR requires that all trusts, irrespective of whether they generate tax consequences, submit ultimate beneficial ownership information to the MFSA.
Noting the conclusions of a recently published report by the OECD, which considered 2018 as the period under review, the MFSA said that, since that period, the MFSA has completely transformed its supervisory approach and invested heavily in resourcing. With regard to the latter, the MFSA has increased its overall compliance headcount, re-allocated resources to TCSP and has established a dedicated TCSP Authorisation team. Furthermore, data management and governance, cybersecurity and ICT risk have been placed as key strategic priorities.
With regard to supervisory effectiveness, the Authority has built and implemented a risk assessment framework, conducting more inspections year on year which is leading to more enforcement interventions. With respect to the banking sector, the MFSA complies with a number of supervisory frameworks and has a very high level of compliance in this regard.
'We do not shy away from reforms and our approach is as 'hands-on' as possible' – MFSA CEO
Meanwhile, in an interview with the International Adviser MFSA CEO Joseph Cuschieri spoke of the challenges faced by the MFSA to catch up with the financial services world, especially in the midst of a global pandemic.

"The global financial services sector faces many challenges. This has been exacerbated by the COVID-19 pandemic," Cuschieri said. "As a result, we have intensified efforts to transform the MFSA as we work towards achieving our ambitious three-year strategic plan.

"We want to increase both the efficiency and effectiveness of our authorisation and supervisory processes. This includes the establishment of a dedicated risk function, financial crime compliance (FCC) team, strengthening of enforcement, and investment in technology and data management."

"Central to this is our commitment to be a trusted, international financial centre. Protecting companies and consumers from instances of financial crime is important in itself, but it is also critical if we are to continue to grow sustainably."

"We do not shy away from progress and reform and our approach is as 'hands-on' as possible."

Cuschieri noted that Malta also had its challenges and setbacks, but said that these "have been addressed head-on through reform, policy changes and the adoption of a risk-based approach across the entire authorisation and supervisory activities."

"Furthermore, AML/CFT standards have been integrated across all authorisation and supervisory activities, thus minimising the risk of AML/CFT breaches by licensed entities."

He admitted that Malta struggled to keep up with the speedy evolution that the sector has had around the world, noting that the MFSA lacked the necessary resources and capacity to keep up with this pace of change. "We are relentlessly making up for years of under-investment in information systems, technology and data management which modern financial supervisors should be armed with," said Cuschieri.

"However, we have made multi-million investments to ensure that we can modernise and meet new challenges. For example, we announced an investment of €20m over the next three years to boost digitalisation and the automation of all our workflows, supervisory automation and business intelligence platforms.

"Data management and technology are central to the MFSA's strategy going forward."

Cuschieri noted that the recent withdrawal of Satabank's banking licence by the European Central Bank (ECB) on the MFSA's recommendation is an example of a "truly unified approach to supervision and law enforcement."


Thu, 17 Sep 2020 10:06:00 +0100

New protocols at old people's homes in attempt to contain spread of virus


New protocols have been put in place in old people's homes in an attempt to contain the spread of the virus, the government said.

Malta has seen a rapid rise in the number of cases in the past days, with many registered in old people's homes.

Staff and residents are being swabbed more frequently, while all staff members are having their temperature taken twice a day. Workers are being told to "be responsible" in their private life.

All staff members must wear a mask and wash hands frequently.

The government is offering influenza vaccination both to the elderly residents and to the workers, the government said.

Each time a resident is swabbed, the family of the individual is to be informed.

Any elderly person who is admitted to a home will be kept in quarantine for 14 days, while residents returning to the home after spending time in hospital will be in quarantine for five days. Residents who have outpatient appointments will be monitored for any developing symptoms.

Protocols are in place for visits, the government said, advising anyone who is not well not to visit elderly people's homes. Masks or visors need to be worn at all times and communication must be made from behind the Perspex.

The homes must be equipped with the necessary communication for the elderly people to remain in touch with their relatives. Trained personnel must be available to help in this communication exercise.

Any food brought from outside must be in containers that can be sealed, and should not be given directly to the residents.

Residents should stay within their group and not mingle with others in different wards or floors, the government said. Homes must provide space for hairdressing services, with the hairdressers also to follow the protocols established.


Thu, 17 Sep 2020 09:57:00 +0100

Virus outbreak among Marsa Junction workers developed 'at a critical point of the project'


The news that a number of Marsa Junction Project workers tested positive for COVID-19 came 'at a critical point' in the project's implementation, days before three flyovers were meant to open, a spokesperson for Infrastructure Malta told The Malta Independent.

The spokesperson, responding to questions by this newsroom, confirmed that works on the project stopped after 8 September, when the agency issued a statement that 21 people working on the project tested positive. The spokesperson stressed that the agency provided all the required information to the health authorities and supported the project contractor to take additional measures to protect its personnel.

"All workers who could have been in contact with the ones who tested positive for the virus were asked to self-isolate and encouraged to seek further advice from the government's COVID-19 support services, as necessary. All works on site were stopped, as recommended by the health authorities," the spokesperson said.

The agency said that these measures helped to ensure that the spread of the virus was contained. "While the 21 workers who contracted the virus last week selfisolated and started receiving the required treatment, subsequent testing of other project workers, who are also in self-isolation, resulted negative. The workers will be retested in the coming days, so that the health authorities can confirm whether they can resume works on site next week."

"Unfortunately, this situation developed at a critical point in the implementation of the Marsa junction project, days before Infrastructure Malta was planning to open another three of this investment's seven flyovers. As soon

as the health authorities confirm that works on site can resume, the contractor will need up to 15 days to open the new flyovers, weather permitting."

The agency's projects implementation team is reviewing and reorganising this phase of the project, the spokesperson said, "to ensure that when the contractor's workers return on site, they carry out the last works on these three flyovers in the shortest time possible, to limit the impact of this delay as much as possible." The agency was also asked whether, given the start of the rainy season, more delays can be expected not only on the Marsa junction project, but also on other roadwork projects around the island.

The agency said that while rainfall can lead to the postponement or reorganisation of certain stages of the Marsa Junction Project and other road works by a few days, especially when laying road foundations and overlying asphalt surfaces, "such situations are normally foreseeable and factored in project timelines in advance, so that they do not have significant impacts on deadlines."

The new flyover structures that will be opened in the coming weeks include uninterrupted, southbound connections from Aldo Moro Road, Marsa, to Giuseppe Garibaldi Road, Luqa, and to Santa Luċija Avenue, towards Santa Luċija and Tal-Barrani Road, Tarxien, the spokesperson said. "The Santa Luċija Avenue's southbound carriageway, which was closed a few months ago, will once again be available to road users." The spokesperson explained that they are working to remove the bottleneck of the existing diversion lanes between Aldo Moro Road and Garibaldi Road, facilitating journeys to Luqa, Gudja, the Airport and the Kirkop Tunnels.

"The three flyover structures completed last year, which are temporarily being used in contraflow in the same direction as the three new ones, will subsequently be closed for a few weeks for final asphalt laying and for the installation of expansion joints, so that they can be reopened in the northbound direction."

The spokesperson said that when the northbound flyovers are reopened, Infrastructure Malta will also open the seventh flyover structure, which was completed last month. It will link the northbound carriageway of Santa Luċija Avenue, currently closed, to the Addolorata Cemetery, to a new park and ride area forming part of the same project and to Il-Gvern Lokali Road, towards Qormi (Turkish Cemetery area)."

The spokesperson said that the Santa Luċija Avenue was closed earlier this year due to the construction of the new Santa Luċija Roundabout Underpass. "Infrastructure Malta will reopen this road's newly-rebuilt southbound carriageway along with the three new Marsa flyovers in the coming weeks. It is planning to reopen the northbound carriageway, also rebuilt as part of the same two projects, a few weeks later."

Beneath the flyovers, Infrastructure Malta is building other new roads that will form part of the same multi-level intersection, including northbound and southbound lanes between Sir Paul Boffa Avenue's northbound carriageway and Aldo Moro Road, the spokesperson added. "The project will also include lanes leading to two new park and ride areas, to the Addolorata Cemetery, to nearby industrial zones and to other areas."

The spokesperson added that Infrastructure Malta is building two underground reservoirs to harvest 1.5 million litres of rainwater for the irrigation of new green areas. Stormwater pipelines will also be constructed.

The Marsa Junction Project is cofinanced through the European Union's Cohesion Fund and the Connecting Europe Facility.


Thu, 17 Sep 2020 08:51:00 +0100

Europa League: Irish eyes on Milan's visit to Shamrock Rovers


With one of the biggest clubs in European soccer making its return to the Emerald Isle on Thursday, Irish soccer is buzzing.

AC Milan expects to have Zlatan Ibrahimovic in tow against Shamrock Rovers in Europa League qualifying for the storied Italian club's first competitive game on Irish soil since 1975, when it was held to a scoreless draw in the midland town of Athlone.

It's welcome attention for Ireland — where many fans openly support teams in the Premier League and beyond — and reminiscent of Real Madrid's 2009 preseason visit that featured Cristiano Ronaldo's debut for the Spanish club.

"The news coverage, talk radio, sports radio, digital platforms, podcasts, it's all been about this game," Rovers board director Mark Lynch said. "For us as a club, it's great to hear and see that. The attention has been at extremely high levels and spread near and far."

The second qualifying round game will be played in an empty Tallaght Stadium, in south Dublin, under UEFA's strict rules because of the coronavirus pandemic.

The Hoops — technically Shamrock Rovers' nickname based on their traditional green-and-white hoop jerseys — are the underdogs. The pandemic-restricted schedule means just one game, however, which could give the hosts a boost.

"There's no fear," Rovers striker Graham Burke told Irish Football Fan TV on Tuesday. "I don't see where there should be pressure on us going into the game.

"I know it's AC Milan and everything, people may not give us a chance of anything," Burke said. "We think we maybe have a shot if we compose ourselves."

The Irish squad has also built some momentum. They are comfortably leading their domestic league and are three weeks removed from a thrilling 12-11 penalty shootout over Finnish club Ilves in the first qualifying round.

Meanwhile, Milan will be looking to start this season where it left off a few weeks ago. The team won nine of its 12 games after the restart, drawing the other three.

Milan also won all four of its pre-season games, scoring 16 goals and conceding five.

This will be Milan's first game in European competition since late 2018. The club served a one-season ban last year for violating financial fair play rules.

It will also be the 38-year-old Ibrahimovic's first match for Milan in the Europa League, a competition he won with Manchester United in 2017, and Sandro Tonali could make his debut for the club.

"The first competitive games of the season are around the corner," said the 20-year-old Tonali, who joined from Brescia this month. "We want to take on the world."

The visiting clubs pocket international broadcast revenue, but in a busy week across Europe, Lynch said this missed opportunity is "less lucrative than some observers would think."

As a small-budget team, Lynch said they're happy to have picked up more than 200,000 euros ($235,000) for each qualification round so far. Still, they can't compete on a financial basis with the likes of Milan.

"I won't even guess what the salary levels of top Serie A clubs are or what team budgets are, but ours would certainly be more modest," Lynch said.

In 2011, Shamrock Rovers became the first Irish club to make it to a group stage of a modern European competition, Lynch said. The feat was matched by Dundalk in 2016.

Milan visited Athlone during the UEFA Cup campaign in 1975, with Giovanni Trapattoni along as an assistant coach. Trapattoni later had a successful run as coach of Ireland's national team.

"I'm sure it was a great occasion," Lynch said. "We've got our own great occasion coming up on Thursday."


Thu, 17 Sep 2020 07:47:00 +0100

TMID Editorial: Due diligence - PL should look at its own transparency record


The Labour Party this week had the cheek to use the term 'double standards' with regard to the PN leadership election's due diligence process, which has now been completed.

Addressing a press conference, PL MP Glenn Bedingfield and lawyer Andy Ellul insisted that the due diligence commission should publish its reports on Adrian Delia and Bernard Grech because "the public wants to know" what the exercise found.

What they conveniently left out was the fact that both Grech and Delia had already stated that they want to make the reports public.

But, apart from this, we are talking here about the same party in government that has consistently refused to publish important inquiry reports and contracts that are even more important to the Maltese public.

The PL has consistently backed the government when it miserably failed to deliver on its 2013 transparency pledge.

Ironically, the Labour press conference was held on the same day that new Attorney General Victoria Buttigieg refused to give Simon Busuttil the findings of the inquiry into the alleged kickbacks from Nexia BT's Brian Tonna to disgraced OPM chief of staff Keith Schembri.

Now one might say that the PL cannot control the AG's office, but then again, we haven't heard it criticise the decision, like others did.

This was not the first time that an important inquiry was kept hidden. The only time when an inquiry was published was in the Egrant saga, and this only happened after a long legal battle instituted by Adrian Delia. Were it for the government and the Labour Party, the full inquiry report would never have been published.

Similarly, we did not see any Labour MPs or spokespersons urging the government to publish the Electrogas contract, or documents related to the recent revelations that Konrad Mizzi forgave the power station company €40 million in taxes.

They did not call for the publication of the scandalous Montenegro wind farm contract. They did not call for the publication of the Australia Hall and Café Premier deals. They did not even call for an inquiry into these serious matters, let alone for the publication of the findings.

These MPs have said nothing about the way in which Freedom of Information Requests are being rejected left, right and centre, or about the difficulties faced by journalists in trying to obtain information to share with the public.

So why are they giving so much importance to the PN due diligence reports?

Now, we are not saying that these reports should be kept hidden. On the contrary, these reports should be made public so that the Nationalist tesserati can have a better idea of the candidates they are being asked to choose from. Likewise, the public should have a better understanding of the person who will be occupying the role of Leader of the Opposition and, possibly, that of Prime Minister.

But if the Labour Party wants to be credible, it should practice what it preaches. It should first uphold the transparency promises it made all those years ago. Only then will it be in a position to ask the PN to do the same.


Thu, 17 Sep 2020 07:43:00 +0100

EC President's proposals to bolster EU public health 'constructive, down to earth' - Sant


In her first State of the Union speech to the European Parliament, the President of the European Commission faced the problem of having her declaration of vision and purpose dominated by the corona virus pandemic but she managed to find the right balance between firefighting and articulating a longterm mission.

In a statement to the plenary of the European Parliament, Labour MEP Alfred Sant said that Ursula Von der Leyen's proposals to bolster the public health component of the EU's profile were constructive and down to earth. She presented her vision for a Europe that emerges stronger from the pandemic.

On the other hand there was little new where the main horizons of EU policy are concerned especially the Green Deal, though affirming them again as she intelligently did makes sense.

However, the commitment expressed to make Qualified Majority Voting operational in more areas of EU activity actually underlines a basic aspect of the state of the union today that she failed to address.

"The locus of decision-making within the institutions has shifted again towards the Council. Both the Commission and the Parliament make bold proposals, then go into wait-and-see mode while member states palaver about the issues", Alfred Sant said.

Regarding this, the President did not seem to have anything better than a band-aid solution when what is needed is an institutional revamp that addresses adequately the political and social realities.


Thu, 17 Sep 2020 07:20:00 +0100

Migration: Solution is not giving us money, it's burden-sharing, PM says
The solution to the migration phenomenon is not giving Malta money to retain migrants here, but to implement burden sharing to the maximum of its potentiality, Prime Minister Robert Abela said.
He was speaking during a meeting he had with Charles Michel, president of the European Council, who is in Malta on an official visit.
Abela said that there should be a permanent solid mechanism for migrants to be relocated to other countries. Very few EU nations have collaborated on this aspect, he added.
The reality is that every morning the government is informed about boats containing 90, 100 or 120 migrants on their way to Malta.
Referring to the state of the union address by the president of the European Commission Ursula von der Leyen, Abela said that countries which are taking in migrants as they happen to be on the EU borders should be listened to. "We are facing situations every day, and we do not have space to receive more migrants," Abela said.
There is no holistic plan to tackle the issue, which is being faced on a boat by boat case. He said that if each of the 27 EU states took one of the 27 migrants who spent a month on board the Maersk Etienne tanker for 38 days a solution would have been found more quickly.
The Maltese Armed Forces have saved thousands of lives, but Malta cannot just be shown solidarity. It needs assistance just like Italy and other nations who have been facing pressure for many years.
On the rule of law, Abela said that the government had implemented changes to increase the checks and balances to strengthen the country's institutions.

Thu, 17 Sep 2020 07:08:00 +0100

European Council president Charles Michel on official visit in Malta
The President of the European Council, Charles Michel, arrived in Malta on Wednesday afternoon on an official visit.
He was welcomed at the airport by Foreign Affairs Minister Evarist Bartolo.
Later in the day, he visited the Armed Forces of Malta's Air Wing in Luqa. Together with Prime Minister Robert Abela and Home Affairs Minister Byron Camilleri, Michel was taken on board an AFM helicopter for a surveillance flight.
Michel was briefed on the AFM's challenges in the fight against illegal immigration, the government said.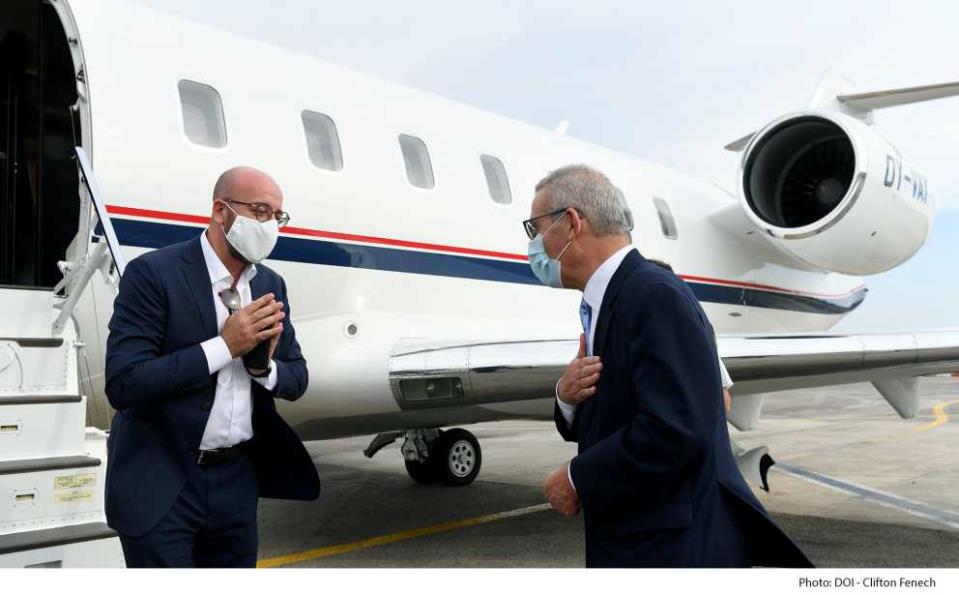 His next appointment was a meeting with PM Abela at the Auberge de Castille.

On Thursday, Michel is expected to visit the site in Bidnija where journalist Daphne Caruana Galizia was killed in October 2017.


Wed, 16 Sep 2020 19:40:00 +0100

Children cannot afford to lose more education due to the government's incompetence - PN


Children cannot afford to lose any more of their education due to the incompetence and lack of preparation from the Education Ministry, the Nationalist Party said in a statement on Wednesday.

A few days away from the opening of schools and six months after the start of the pandemic, the Government has been caught completely unprepared for the reopening of schools, the PN said.

"It lacked a Plan A to provide education in schools and was not well prepared with a Plan B to offer a decent education remotely. The education of our children and their health and safety, plus that of their educators is an absolute priority in our country. Our children cannot afford to miss any more learning due to the incompetence and unpreparedness of the Ministry of Education."

The statement comes after both the Malta Union of Teachers and the Union of Professional Educators called for the government to keep schools closed due to the rise in numbers of coronavirus cases.

On Wednesday the Health Authorities confirmed a record of 106 new cases.

"It is clear that schools are not yet ready to physically open and on the other hand it is not clear what serious preparations have been made to make remote learning more effective than it was in the previous months."

The Opposition highlighted that due to the lack of control over the progress of the pandemic in the recent weeks, particularly showing the numbers reached on Wednesday and the lack of adequate and timely intervention by the Education Ministry, was of a concern to parents and educator's unions.

The statement highlights that the Opposition has been appealing for clear plans to cater for the different school scenarios for months. "Six months later, the Government does not have the same excuses it did back in March. The Opposition stands by its position communicated weeks ago where it was clearly stated that we need to do our best to reopen our schools but don't open at all costs."


Wed, 16 Sep 2020 18:17:00 +0100

Joseph Muscat denies accusations of illegalities reported by financial crime blogger


Former Prime Minister Joseph Muscat has denied any accusations of illegalities, after a financial crime blogger wrote that he is under investigation by foreign authorities.

Kenneth Rijock, who describes himself as a former money launderer turned-compliance officer specialising in enhanced due diligence and financial crime consultant, published an article stating that some of his reliable sources are investigating Muscat for criminal activity in violation of American law.

"Lest you think that the Muscat investigation is purely an American show, since you have probably heard that there have been several US law enforcement agents on the ground in Malta for weeks (FBI), there are three Western European countries that also have criminal investigations pending against the former prime minister." He writes that, 'it is presumed, but not confirmed,' that those investigations involve the laundering of criminal proceeds.

He also writes that 'some observers' believe that Muscat visited one or more offshore financial centres to 'deposit illicit cash'.

In addition, Rijock wrote that an allegation that has surfaced is in terms of the provision of material support to a Designated Terrorist Organization.

The Malta Independent sent questions to Muscat, asking whether he has been contacted by any foreign law enforcement agencies, whether he is aware of any foreign investigations into him, whether he has been contacted by the Maltese authorities in connection to allegations of money laundering, bribes or kick-backs, and whether he has visited a number of countries mentioned in Rijock's blog, among other things.

"While I do not know who the said gentleman is, one can refer to open source media according to which he has been accused of propagating fake news and also made to apologise for blogs he wrote. I cannot verify whether these reports in his regard are true or not," Muscat said.

"He is also a 'self-confessed', 'ex-career money launderer' and his colourful history too seems to be confirmed on open source. I find it extremely difficult to believe anything written in the said article, also because the accusations levelled against me, which now even link me to aiding terrorists, are totally false."

"I totally deny any of the accusation of illegalities directed towards me by this individual who seems to have contacts to usual suspects in Malta. I have not been contacted by any foreign law enforcement agency and I am not aware of any such 'investigation'. I am not facing any trials, in the US or elsewhere and do not have any attorneys. I also do not have any bank accounts other than the local ones declared in my publicly available Declaration of Assets."


Wed, 16 Sep 2020 17:57:00 +0100

Updated: See, speak, hear no evil: Activists blast Cabinet for staying silent against abuses
Activists gathered in front of Castille in Valletta on Wednesday to protest against the government, using cut-outs of monkeys to lambast how the Cabinet of ministers has stayed silent in the face of abuses.
The protest, coinciding with the 35th month since Daphne Caruana Galizia was killed, saw protestors gather in a socially distanced protest outside the office of the Prime Minister in Castille Square.
Two years after the assassination of independent journalist Caruana Glaizia, a public inquiry was launched with a 9-month deadline, however this timeframe was cut short due to courts closing down when the COVID-19 pandemic broke out. Once these restrictions were lifted the inquiry resumed.
On 2 September, Prime Minister Robert Abela wrote to the state-appointed public inquiry board saying that he is granting a one-time deadline extension to 15 December 2020 for the public inquiry to come to a close.
During the protest, Repubblika's Robert Aquilina said that it is unacceptable that Prime Minister Abela and his Cabinet continue to wash their hands of the collective responsibility they have after continuing to support the likes of Joseph Muscat, Konrad Mizzi and Chris Cardona.

"Without the support of Robert Abela and his ministers, the government would not have been bound to Electrogas; they would not have tied a whole country to a contract that we didn't need in the first place and which they are paying for through higher electricity bills," Aquilina said.

Now, Robert Abela wants to stop the independent inquiry, which is revealing a lot from what his ministers kept hidden, he added, saying that Abela is leading a monkey government that shuts their mouths, eyes and ears so as not to see or hear anything, while seizing power.

Repubblika believes that Abela wants a whole country of monkeys who close their eyes, ears and mouths by silencing the public inquiry so that no one knows the truth; "because he knows that without truth we can never have justice. And without justice, he and his friends will not get blasted for looking the other way."

"We will not turn our faces away," Aqulina said, "for three years we have been taking to the streets and insisting on justice. We will not give up now just because Robert Abela is tired of listening to the atrocities the government has committed and he has been an accomplice to."

Today marks 35 months since Daphne Caruana Galizia was killed, he noted, 35 months of campaigning to bring justice to her and her family – "we are still far from our goal."

The Government wants justice to be done – Labour Party

In a statement, the Labour Party said the Government wants justice to be done in the case of the murder of Daphne Caruana Galizia, "despite the many divisive words that were used today during a protest in front of the Office of the Prime Minister, on the day when the President of the European Council Charles Michel is on a state visit in Malta."

"Contrary to what is being said, the Government does not want to stop the inquiry but in fact would like the process to be concluded expeditiously and according to its terms of reference which were mutually agreed upon with the Caruana Galizia family. This is the first time that an inquiry of its kind is being held in front of 3 judges, whose names were also accepted by the Caruana Galizia family," it said.

"During recent months, this Government has made several bold decisions notably the appointment of a new Commissioner of Police following a public call and the removal of a member from the Labour Parliamentary Group. Following the necessary legislative amendments, a series of reforms were implemented and also praised by the relevant institutions. Above all, it must be noted that there is an ongoing court case in which a number of people are charged with their alleged involvement in this crime. These developments took place in a very short period of time when compared to other cases."

The PL said that, "instead of wasting time on politically motivated games which are only aimed at hindering the reforms and change this Government is bringing about, it would be better to let the process continue without any further interference so as to ensure that justice is ultimately done."


Wed, 16 Sep 2020 15:36:00 +0100

MUT calls for postponement of physical reopening of school


The Malta Union of Teachers (MUT) has called on the government to postpone the date when schools will reopen for physical lessons.

Kindergarten, primary and secondary schools are set to reopen on 28 September.

Over the past two weeks, the Education Ministry has released the much awaited COVID-19 guidelines for all educational institutions, including kindergarten, primary and secondary, as well as post-secondary.

On Wednesday, the MUT set up a press conference in which it shared its thoughts and concerns about them and the current COVID-19 situation.

"The situation is not great as you may have realised, which is why we are taking this stand. However, this is not our final stand as we will continue communicating with the ministry depending on how the situation develops," MUT President Marco Bonnici.

Bonnici said that the MUT has always declared that there are two elements that will determine their tand about the reopening of schools; starting with the pandemic and the r-factor; "which you know is something that is getting worse each day and the r-factor will for sure shoot up."

"Secondly, the protocols, which were published too late," Bonnici said. "How can you expect that you let children go into school when you released protocols yesterday and are expecting us to implement them immediately?"

Bonnici said that teachers are getting stuck in every step of implementation phase. The 1.5m distance between desks is a core issue as there are desks that are being placed facing the wall straight on – "can you imagine a student looking at a wall throughout the whole lesson."

He added that the Education Ministry is not giving any answers on what will happen in this regard and on any other questions the MUT have which is causing a sense of panic.

Furthermore, the call for supervisors came out yesterday which means that the government has no idea how many personnel it will have to survey that guidelines are abided by, Bonnici said.

On top of this, the curriculum has been given a backseat in this situation as the focus has been on these guidelines.

In light of all these factors, the MUT Council has decided that the government has to postpone the reopening of educational institutions at all levels and opt for online lessons.

"We do not think that we have enough time to address our concerns especially with the rise in new cases."

Secondly, the MUT has called for the government to implement a compliance certification for every institution to ensure that the guidelines are abided by once schools reopen.

On a concluding note, Bonnici reiterated that this is the position that the MUT is taking in the current situation, but this can always change in the future, but insisted that it is not in anyone's best interest to reopen schools next week.

Asked if he thinks that having lessons online will increase the risk of children falling off the radar he said that physical lessons will always remain the best option with online lessons being a back-up which is what is needed at the moment.


Wed, 16 Sep 2020 13:52:00 +0100

Record of 106 new cases of Covid-19 reported overnight
A record of 106 new Covid-19 cases have been reported by health authorities on Wednesday, as cases once again increase.
It is the highest number of cases reported in a single day, surpassing the 78 cases reported last Sunday, out of which 24 were in a single home for the elderly in Fgura.
22 new recoveries were also reported in the last 24 hours, authorities said.
The numbers mean that the number of active cases has soared up to 591.
2,470 swab tests were carried out in the last 24 hours, taking the total number of swab tests up to 221,162.
Authorities said that they are still investigating today's cases, but gave details about the cases reported yesterday.
Out of the 49 reported on Tuesday, 15 cases are from the Casa Antonia home for the elderly, 10 are family members of previously known cases, five were work colleagues of known cases, three are from the St. Joseph Home for the Elderly cluster, and two are direct contacts of other positive cases.
Malta registered its first case of Covid-19 on March 7, and as of today has registered 2,560 cases. 16 of those people with Covid-19 have died, while 1,953 have recovered.
The first phase of the pandemic was controlled by restrictive measures which were eventually completely lifted in July after the number of active cases dropped to as low as three.
However cases have since spiked, leading to new measures being implemented a month ago on 17 August restricting mass events and closing bars and night-clubs.
Those restrictions remain in place.

Wed, 16 Sep 2020 10:35:00 +0100

Internal discussion after Panamagate was on Konrad Mizzi, never Keith Schembri - Fearne


The public inquiry into the assassination of journalist Daphne Caruana Galizia resumes today, with Deputy Prime Minister Chris Fearne testifying.

The public inquiry into the murder of journalist Daphne Caruana Galizia is tasked with, amongst other things, determining whether the State did all it could to prevent the murder from happening.

In the last session, former Deputy Prime Minister Louis Grech testified that the Panama Papers were 'a great setback' for the government when they came out.

Caruana Galizia was murdered in a car bomb just outside her Bidnija home on 16 October 2017. Three men, George Degiorgio, Alfred Degiorgio and Vince Muscat, have been charged with carrying out the assassination, while Yorgen Fenech is charged with masterminding the murder.

Melvin Theuma, who acted as a middleman between Fenech and the three killers, was granted a presidential pardon to tell all.

The inquiry is led by retired judge Michael Mallia, and includes former chief justice Joseph Said Pullicino and Judge Abigail Lofaro.

Please refresh for updates:

11:15 That's it for today. Thank you for following.

11:15 Fearne has finished testifying. He steps off the stand and leaves the courtroom. The next sitting is on Friday with Education Minister Owen Bonnici expected to testify.

11:12 Fearne: "They had only been brought to my attention recently. As soon as they came into my possession I passed them on to the relevant authorities."

11:12 Azzopardi: "Are such side letters to be placed under scrutiny?"

11:11 Fearne replies that he had no idea about the letters. "Often, they made sense... but no, I was not involved."

11:11 Daphne Caruana Galizia had published a secret side-letter from Konrad Mizzi on the deal, Azzopardi says.

11:10 Fearne: "Yes."

11:10 Azzopardi: "Basically, when he signed that waiver, Mizzi did not inform you as health minister."

11:09 Fearne explains that this waiver only lasted till the end of February this year and negotiations are still underway.

11:09 Fearne: "Part of the obligations imposed on the concessionaire was a bank guarantee of €9 million. Vitals had done this. When the concession changed hands to Steward, I was informed that Steward did not have the guarantee. I had sent for their representatives and told them that it was unacceptable. Around that time, they had presented a letter giving a "parent company guarantee" that was approved by Konrad Mizzi. I had discussed this with Cabinet who opted instead to give Steward a breathing period to come up with this bank guarantee."

11:03 Azzopardi says that in February this year, MaltaToday's Matthew Vella reported that Konrad Mizzi had waived €9 million on the hospitals concession deal. The lawyer is reading from the newspaper report. He asks whether Fearne was informed of this.

11:01 There had been a discussion at Cabinet level on the Electrogas government guarantee, he recalls after being asked by Said Pullicino.

10:59 Fearne says he also became aware that the owner of 17 Black was Yorgen Fenech at the same time as everyone else [November 2018]. "What I remember was that I was surprised and then shocked as he had connections with other people," he adds.

10:58 Fearne: "There were rumours swimming around, but believe it or not, I got to know of the date when it was announced."

10:57 Lawyer Jason Azzopardi takes over questioning. "When were you aware of the 2017 election date?"

10:57 Asked about personal attacks on Caruana Galizia, he says: "I was never in favour of personal attacks."

10:56 Questioning moves on. Fearne says he never met Yorgen Fenech or Brian Tonna at Castille and didn't even know what Karl Cini looked like. Tonna and Cini are partners in Nexia BT, the financial services firm that helped Mizzi and Schembri open companies in Panama.

10:55 Fearne: "I am convinced that Daphne Caruana Galizia was murdered to shut her up, why else kill a journalist. It could have been a sign to intimidate other journalists."

10:54 He explains that the interview was carried out shortly after the arrest of the three triggermen and that he was hopeful at the time – and still is – that police would also solve other car bombings. In the interview, Fearne had said that freedom of expression in Malta was threatened.

10:52 Comodini Cachia asks Fearne about a Deutsche Welle interview he gave shortly after the Caruana Galizia murder.

10:50 Fearne says he didn't have information on what Gafa's role at OPM was. He explains that Gafa had refused to speak to him after the sacking.

10:49 Fearne: "When I was parliamentary secretary, Neville Gafa had an office at the ministry that was there from the time of Godfrey Farrugia. His position was to report to OPM. Every ministry had an OPM coordinator. Soon afterwards Konrad Mizzi had appointed him to FMS and coordinate things there. The day after I was made minister, I was informed by Mizzi's lawyer that Gafa might have been involved in medical visas shortcomings. That same day I had informed the police and his office was sealed. He didn't work for the ministry again."

10:45 Comodini Cachia asks about Neville Gafa, the former OPM official. "At some time, he was a health ministry employee. Is this true?"

10:44 Fearne says he had engaged a number of technical persons to ensure that the contract conditions were adhered to.

10:43 Comodini Cachia: "When Konrad Mizzi ended his tenure as health minister and you took over, had you carried out due diligence on the hospitals concession?"

10:41 Fearne: "No, but I told my permsec to pass on a copy to the magisterial inquiry. There were two MOUs. One was between the parties which form Vitals and this came to my attention a few months ago. This referred to the time before the concession was granted. Then there was another one in the hands of the NAO."

10:39 Comodini Cachia: "Did you ask for a copy?"

10:39 Fearne: "I have not seen this MOU to this day."

10:38 Comodini Cachia asks about Vitals. "Did the MOU of 2014 include all the hospitals?"

10:38 Fearne: "That was a very strange situation as the motion was presented by Marlene Farrugia and the parliamentary group followed the instructions of the Whip who at the time was Godfrey Farrugia [Marlene's partner]."

10:37 He is answering the panel that points out that he had voted in favour of Mizzi in the parliamentary confidence vote.

10:36 The 2016 vote of confidence in Konrad Mizzi was not a free vote, Fearne says.

10:35 Fearne says he felt that he could have done a better job [of holding power to account] from the inside.

10:34 Mallia says that the sense of business as usual, despite the strange money flows and deals, was creating a sense of impunity in the country.

10:34 Fearne: "I am not saying that there is a failure on government's part. I am waiting for the result of investigations, including this one, and then it should be determined who must resign."

10:33 QUICK REMINDER: In November 2018, a Reuters investigation uncovered how Dubai-based 17 Black belonged to Yorgen Fenech and how the company had a bank account at Noor Bank in the UAE. 17 Black had, several months earlier, been revealed to be a target client of Konrad Mizzi's and Keith Schembri's Panama companies.

10:31 Fearne: "The remit to act is of the institutions. Government would see that they are doing a good job... it is not the role of Cabinet to investigate."

10:30 Comodini Cachia: "After 17 Black was identified as Yorgen Fenech', what steps did you take as a Cabinet?"

10:30 Fearne: "Without defending anyone, at that stage I was not seeing any evidence of the Panama account and its association with those projects. It might or might not be true but I wasn't aware of it."

10:28 Comodini Cachia refers to a blog post by Daphne Caruana Galizia in which she raised doubts about the Gozo hospital concession and the Oxley Capital Group.

10:26 Fearne: "Konrad Mizzi was made or chose to step down, but after that he was re-elected. Political responsibility was shouldered."

10:25 Therese Comodini Cachia follows up the board's questions. She points out that the point of the board is not to find legal liability but to identify the culture of impunity at the time of Daphne Caruana Galizia's death. She asks Fearne how political responsibility was shouldered and whether developments simply added to the sense of impunity.

10:23 Fearne: "I am on record saying that the FIAU, once it has intel on a person, should have the power to act of its own accord."

10:22 Said Pullicino says that good people are working on investigations but at a certain level there is a net which leads people to leave or be reassigned.

10:22 Fearne says he would never be briefed by the FIAU, the police or the Malta Security Services.

10:21 Fearne: "The relationship with Keith Schembri was frosty after I had said that I was under the impression that he [Schembri] had tried to harm my election chances."

10:20 Fearne says there were big discussions in Cabinet on the resignation of the prime minister and ministers. "Resignations did take place," he says.

10:18 Fearne: "I don't recall if it was a formal topic in a Cabinet memo but it was definitely being spoken about. The murder was the most shocking event of my political career."

10:17 Fearne is asked whether the murder of Daphne Caruana Galizia was discussed in Cabinet.

10:17 Fearne says that he was opposed to how the role of chief of staff developed over the past 20 years. There was too much concentration of power. "I was of the opinion that the role should be scrapped," he adds.

10:15 The board notes how despite this Konrad Mizzi remained responsible for the most controversial projects.

10:15 Fearne says there was a discussion about the Panama Papers in Cabinet. He tells the inquiry that the prime minister had met him and informed him that Konrad Mizzi was not going to remain deputy leader or minister for health. "On Keith Schembri, the PM had said that he had trust in him and he would decide on his fate. The PM had met ministers individually after Panamagate. The discussion was mostly on Konrad Mizzi. Keith Schembri was not up for discussion," he says.

10:13 On Konrad Mizzi's huge remit, Fearne says that the reason given by the government was that all the projects were concentrated under the responsibility of one person and that Konrad Mizzi will deliver. The idea was for there to be continuity. "What I can say is that my decisions are made after a discussion with ministers or Cabinet. I never had any direction imposed on me."

10:10 Fearne: "I was not part of it and neither did I know it was there and neither did I have the perception of its existence. The first time I knew about it was when Evarist Bartolo testified about it before this inquiry. He [Bartolo] had never expressed any reservations about it before."

10:09 Judge Michael Mallia asks him about the infamous 'kitchen cabinet'.

10:09 Fearne says that this inquiry would have repercussions on the country for years to come and that he was willing to assist it.

10:09 Said Pullicino asks the deputy prime minister if he had any statement he wished to make.

10:07 Fearne says the financial aspect was settled with Projects Malta and then health and energy minister Konrad Mizzi. The Foundation for Medical Services was not involved in the Vitals deal, he adds.

10:06 The board asks if the financial deal was already set before the agreement was presented to parliament.

10:04 Fearne: "Cabinet is aware of things when they arrive in front of it. It doesn't generally involve a lot of detail. Cabinet decides the direction, not the details."

10:01 Chief justice emeritus Joseph Said Pullicino asks about the lack of accountability to parliament on the project. "Everyone is coming here and saying I found this presentation, it was a done deal... is this the way to do business?"

10:00 Fearne says that Steward Health Care were a serious organisation. He had gone to visit them with Public Health Superintendent Charmaine Gauci. "I had also visited Harvard Medical School that were involved in the deal but later pulled out."

09:59 Fearne says he had not known Ram Tumuluri before the deal, but afterwards had long arguments (battibekki kbar) with him. Fearne says that he met Tumuluri and Mark Pawley [from the Oxley Group] in Castille. "On paper, it looked like they were bringing €200 million, the service would be good and there would be medical tourism. I had a group of people giving me advice on the agreement. There would be problems but we would solve most of them."

09:55 Fearne explains that after the signing of the concession agreement there was a discussion in the parliamentary group and in parliament. "There was no opposition to it because on paper it looked like a good deal. The opposition voted in favour of it," he says.

09:54 Fearne says that the choice of the preferred bidder for the hospitals concession was not in his remit. "I only found out about the Memorandum of Understanding recently. There was a PQ about this before the 2017 election... Konrad Mizzi was my minister when I was parliamentary secretary."

09:51 Fearne explains that when he was a backbencher between February and March in 2014, he was asked to meet Keith Schembri. "He [Schembri] told me to prepare for changes in Cabinet. He asked me whether I would be interested in the role like [former PN health minister] Louis Deguara, whereby I would be a parliamentary secretary but not to be responsible for certain projects in the area. I accepted."

09:49 Fearne says that after the adjudication, Vitals were selected as the preferred bidder. "The concession was not signed immediately, in that period, I was asked to give a number of KPIs for a part of the concession," he says.

09:48 He is asked about the Vitals hospitals concession. "I knew there was going to be a project for the hospitals before Vitals were involved," he says, adding that he was not involved at that stage as a parliamentary secretary. The only thing he had done was attend a presentation by Malta Enterprise at Castille for the Gozo hospital to become a teaching hospital for Barts.

09:46 Fearne explains that the public private partnership with Barts Medical School started when Godfrey Farrugia was health minister. "That project was led by Malta Enterprise. I was not involved at all in the PPP," he adds.

09:45 Fearne: "When I was a youth, I was involved in KSU, MMSA and Labour youth movement. Eventually when I graduated as a doctor I did not remain active politically. After the 2008 election I decided to contest the next election. I was elected in 2013. I was a backbencher, after that parliamentary secretary for health and later, health minister."

09:44 Judge Michael Mallia asks Fearne about his political life before 2013.

09:44 Deputy Prime Minister Chris Fearne takes the stand.

09:43 Comodini Cachia says that the PM only has power over the resources used. "If he starts depriving the inquiry of this..." she begins, but is told by the board not to talk of hypothetical situations.

09:39 Judge Michael Mallia says the inquiry board has received a reply from the Prime Minister. Lawyer Therese Comodini Cachia says that if the PM has nothing to add, "our position remains the same. We don't need his permission to extend the inquiry".



Wed, 16 Sep 2020 09:25:00 +0100

European values, including golden passports, are not for sale – European Commission president


During her first State of the Union address, European Commission president Ursula von der Leyen highlighted that golden passports are amongst the list of European values which "are not for sale".

On Wednesday, von der Leyen was addressing the European Parliament during the State of the Union address, where she highlighted a number of issues, such as migration, digitalisation and the importance of well-being during the coronavirus pandemic.

Stating how she will continue to defend the rule of law and integrity of European institutions, she listed a number of items which are to be protected.

"Breaches of the rule of law cannot be tolerated. I will continue to defend it and the integrity of our European institutions. Be it about the primacy of European law, the freedom of the press, the independence of the judiciary or the sale of golden passports. European values are not for sale."

Migration

On the topic of migration, von der Leyen expressed the importance migration has played in building the Europe we have today and that whilst a lot has been done there is still more work to do.

"Next week the Commission will put forward its New Pact on Migration (…) a pact which will take a human and humane approach." She said that she expects all Member States to pull their weight, "migration is a European challenge and all of Europe must do its part."

Climate neutrality by 2050

Von der Leyen also spoke about the importance of protecting nature and how now more than ever people understand the importance of green spaces for mental health and physical wellbeing. She highlighted that the EU has a mission to become the first climate-neutral continent by 2050. "On the basis, the European Commission is proposing to increase the 2030 target for emission reduction to at least 55%."

She said that next summer the EU will revise its climate and energy legislations to make it "fit for 55". She said that it is crucial that society changes how it treats nature, how it produces and consumes raw materials and focuses on building a stronger world to live in.

Europe's Digital Decade

Von der Leyen also highlighted the importance of technology and how different the past six months would have been without the advancement in technology. She said that Europe needs to have a common plan for digital Europe with clear defined goals for 2030, which focus on connectivity, skills and digital public services.

Strengthen European Health Union

Looking back at how Europe reacted to the first six months of the coronavirus pandemic, von der Leyen said that "Europeans have shown how strong that human spirit really is". She praised the care workers, doctors and front line workers, who showed the power of humanity during this difficult period.

She said that the pandemic is not over, and that millions are still concerned about their health, their jobs and the future.

She said that Europe must continue to protect lives and livelihoods. "We must continue to handle this pandemic with extreme care, responsibility and unity." She said that Europe must build a stronger European Health Union and strengthen the EU's crisis preparedness and management of cross-border health threats.

You can follow her speech below:


Wed, 16 Sep 2020 09:20:00 +0100

Malta Independent.com.mt
Laatste 50 Nieuws Berichten en/of updates van database donderdag
- The Guardian
Critics condemn Trump's rewrite of race in America in DC speech – live
-Thu, 17 Sep 2020 21:30:07 GMT
- The Guardian
Coronavirus Australia live: national cabinet split over quarantine and flight caps – latest updates
-Thu, 17 Sep 2020 21:29:55 GMT
- The Guardian
Coronavirus live news: cases in France hit one-day high as WHO warns of 'alarming' transmission across Europe
-Thu, 17 Sep 2020 21:24:06 GMT
- BNdestem.nl
Veltman debuteert met ruime zege, vroege uittocht Wolves
-Thu, 17 Sep 2020 21:06:00 GMT
- ad_sportwereld
Veltman debuteert met ruime zege, vroege uittocht Wolves
-Thu, 17 Sep 2020 21:06:00 GMT
- nu_nl_binnenland
'Regionale maatregelen: cafés eerder dicht, maximaal 50 mensen in feestzalen'
-Thu, 17 Sep 2020 23:00:04 +0200
- BNdestem.nl
De Avondetappe in Sint Willebrord:'Ben gelovig en ga fietsen'
-Thu, 17 Sep 2020 20:59:00 GMT
- BBC_World
Canada Tesla driver charged over 'napping while speeding'
-Thu, 17 Sep 2020 20:50:51 GMT
- Filmvandaag - Vandaag op TV
The Boss [22:45, Net 5, IMDb: ]
-Thu, 17 Sep 2020 22:45:00 +0200
- Filmvandaag - Vandaag op TV
Blood Father [22:45, RTL7, IMDb: ]
-Thu, 17 Sep 2020 22:45:00 +0200
- BNdestem.nl
Marokko in shock: Adnane (11) ontvoerd, verkracht en vermoord, buurman (24) opgepakt
-Thu, 17 Sep 2020 20:36:00 GMT
- BBC_World
Coronavirus: WHO says weekly cases in Europe eclipse March peak
-Thu, 17 Sep 2020 20:35:18 GMT
- volkskrant opinie
Het kussen van de rechtspleging moet worden opgeklopt
-Thu, 17 Sep 2020 20:33:00 GMT
- Filmvandaag - Vandaag op TV
Jackass Number Two [22:30, Spike, IMDb: ]
-Thu, 17 Sep 2020 22:30:00 +0200
- BNdestem.nl
Grasveld gaat in vlammen op bij brand in Bergen op Zoom
-Thu, 17 Sep 2020 20:26:00 GMT
- Independent.co.uk World
Ex-Pence aide will vote for Biden due to Trump's 'flat out disregard for human life'
-Thu, 17 Sep 2020 20:25:00 GMT
- Independent.co.uk World
Emmys, live and virtual: 'What could possibly go wrong?'
-Thu, 17 Sep 2020 20:24:40 GMT
- Leeuwarder_Courant
Hûs en Hiem niet blij met zonnepanelen op dak stelpboerderij Zandhuizen
-Thu, 17 Sep 2020 21:24:31 +0100
- Independent.co.uk World
I converted a Trump supporter — my 87-year-old mom
-Thu, 17 Sep 2020 20:24:14 GMT
- Independent.co.uk World
First lady promotes Trump's approach to opioid crisis in NH
-Thu, 17 Sep 2020 20:23:13 GMT
- Independent.co.uk World
Study: Ending census early will cost Florida, Montana seats
-Thu, 17 Sep 2020 20:22:51 GMT
- Independent.co.uk World
In bizarre speech at National Archives, Trump warns of left-wing 'segregation' and pushes 'patriotic education'
-Thu, 17 Sep 2020 20:19:46 GMT
- Independent.co.uk World
Labour conference: US congresswoman Ilhan Omar to address activists at Momentum-backed event
-Thu, 17 Sep 2020 20:18:48 GMT
- Independent.co.uk World
Security guard brandishes gun at protesters demonstrating against hysterectomies forced on migrant women
-Thu, 17 Sep 2020 20:18:27 GMT
- Independent.co.uk World
AP FACT CHECK: Trump's big distortions on mail-in voting
-Thu, 17 Sep 2020 20:18:24 GMT
- Independent.co.uk World
Trump administration threatens to step up pressure against Iran and Venezuela in run-up to 2020 election
-Thu, 17 Sep 2020 20:17:21 GMT
- Independent.co.uk World
Embed-Table-Virus Outbreak-State Trends, ADVISORY
-Thu, 17 Sep 2020 20:17:11 GMT
- BNdestem.nl
Parachutist stort neer in weiland Terwolde
-Thu, 17 Sep 2020 20:16:00 GMT
- Independent.co.uk World
Gulf between Trump and doctors on mask wearing gets wider
-Thu, 17 Sep 2020 20:14:59 GMT
- ad_sportwereld
Weghorst scoort twee keer voor Wolfsburg, PSV volgende week naar Slovenië
-Thu, 17 Sep 2020 20:14:00 GMT
- BNdestem.nl
Weghorst scoort twee keer voor Wolfsburg, PSV volgende week naar Slovenië
-Thu, 17 Sep 2020 20:14:00 GMT
- Independent.co.uk World
Burberry takes to Twitch to livestream collection that sees Riccardo Tisci hit his stride
-Thu, 17 Sep 2020 20:13:01 GMT
- nu_nl_algemeen
Jumbo-Visma-directeur Zeeman uit Tour de France gezet wegens wangedrag
-Thu, 17 Sep 2020 22:10:42 +0200
- The Guardian
Covid-19: UK test and trace 'barely functional' as nearly 10 million face lockdown
-Thu, 17 Sep 2020 20:10:19 GMT
- volkskrant opinie
De nieuwe lokale krant zou nog weleens groot kunnen worden
-Thu, 17 Sep 2020 20:10:05 GMT
- BNdestem.nl
'Beruchte MMA-broers die pronkten met luxe sjoemelden met tienduizenden euro's aan overheidsgeld'
-Thu, 17 Sep 2020 20:10:00 GMT
- Independent.co.uk World
Justice Dept. memo: Sedition statute 'could potentially apply to some of the violent acts that have occurred' in unrest
-Thu, 17 Sep 2020 20:09:06 GMT
- Independent.co.uk World
iOS 14: If your iPhone shows an orange or green dot in the corner, someone may be watching you
-Thu, 17 Sep 2020 20:08:06 GMT
- The Guardian
Cheer star Jerry Harris arrested on charges of child sexual abuse images
-Thu, 17 Sep 2020 20:06:31 GMT
- nu_nl_algemeen
Rutte zoekt naar steun terwijl besmettingen opnieuw oplopen
-Thu, 17 Sep 2020 22:04:40 +0200
- BNdestem.nl
Lees alles over de Nationale Sportweek 2020
-Thu, 17 Sep 2020 20:04:00 GMT
- Independent.co.uk World
US judge blocks Postal Service changes that slowed mail
-Thu, 17 Sep 2020 20:01:06 GMT
- Tweakers.net
Elektrische 'zonneauto' krijgt in Nederland lagere bijtelling
-Thu, 17 Sep 2020 19:59:57 GMT
- Independent.co.uk World
Smoke from west coast wildfires reaches provinces in eastern Canada
-Thu, 17 Sep 2020 19:56:08 GMT
- The Guardian
Ontario announces new restrictions and steep fines amid Covid-19 surge
-Thu, 17 Sep 2020 19:55:39 GMT
- Independent.co.uk World
US-Canada border has seen 1000 percent increase in drug smuggling since lockdown began
-Thu, 17 Sep 2020 19:55:34 GMT
- Independent.co.uk World
'This is amazing': Gwen Stefani replaces ex-husband Gavin Rossdale with longtime boyfriend Blake Shelton in throwback picture
-Thu, 17 Sep 2020 19:53:42 GMT
- ad_sportwereld
Ibrahimovic helpt AC Milan aan zege op Ierse dreumes Shamrock Rovers
-Thu, 17 Sep 2020 19:52:00 GMT
- BNdestem.nl
Ibrahimovic helpt AC Milan aan zege op Ierse dreumes Shamrock Rovers
-Thu, 17 Sep 2020 19:52:00 GMT
- Independent.co.uk World
Pennsylvania judge extends mail-in ballot deadline to November 6, three days after Election Day
-Thu, 17 Sep 2020 19:51:50 GMT